Asia's first Grandmaster improves to a perfect 3.0 points to separate himself from his erstwhile co-leaders in the 34-man event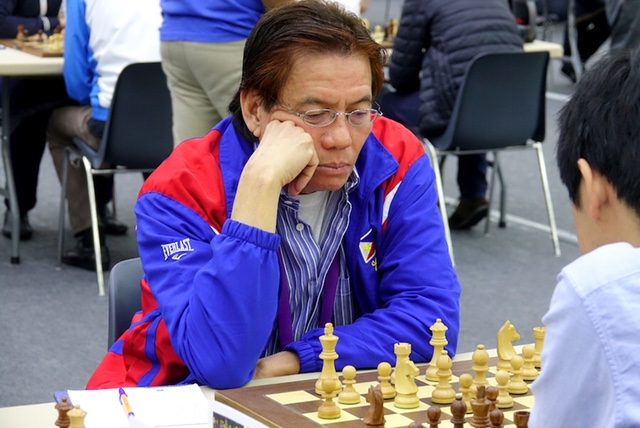 TAGAYTAY, Philippines – Eugene Torre subdued International Master Angelo Young on Monday night, November 5, to seize the solo top spot in the 9th Asian Seniors Chess Championships at the Tagaytay International Convention Center.
His third straight victory gave Asia's first Grandmaster a perfect 3.0 points, separating him from his erstwhile co-leaders in the event that lured 34 players – aged 50 and over – from 8 countries.
Trailing Torre, the runaway winner in last year's Asian Seniors held in Auckland, New Zealand, at 2.5 points were IMs Chito Garma and Petronio Roca, Cesar Caturla, Carlo Lorena, unheralded Rolzon Roullo, and Than Khin of Myanmar.
"I hope to sustain my form," said Torre, who turned 67 in the two-round inaugurals on Sunday, November 4.
Roca bested Kazakh IM Aitkazy Bairmuzin, while Garma was held to a draw by Khin.
Continuing his solid play, Caturla downed Efren Bagamasbad to keep pace with Lorena, who thwarted retired Judge Rosendo Bandal.
Seeded just 23rd, Roullo toppled eighth-ranked Kuanishbek Jumadullayev of Kazakhstan.
Torre, now head coach of the Philippine chess teams, will handle the black pieces when he tangles with Roca in the fourth round on Tuesday, November 6.
Other key matches of the tournament being hosted by the Tagaytay City government pit Garma against Lorena, Roullo against Caturla, and Fide Master Oleg Rinas (2.0 points) against Khin. – Rappler.com