Jamal Murray explodes for 48 points while Klay Thompson leads the defending champion with 27 points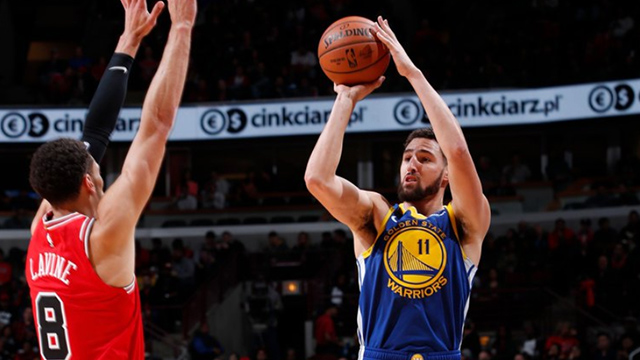 LOS ANGELES, USA – Klay Thompson scored 27 points as the Golden State Warriors stretched their winning streak to eight games with a 117-101 victory over the Memphis Grizzlies on Monday, November 5 (Tuesday, Manila time). 
Thompson was one of five Warriors players in double-digits as the NBA champions overcame a sluggish start to wrap up a comfortable victory at Oracle Arena.
After an evenly contested first half finished at 58-58, the Warriors produced a breathless burst of scoring in the third quarter to pull clear.
They outscored the Grizzlies by 34 points to 15 in the third, effectively killing off the game going into the fourth.
The victory leaves the Warriors on top of the Western Conference with a 10-1 record.
Kevin Durant had 22 points for the Warriors while Stephen Curry had 19.
In Denver, the Nuggets maintained their hot streak with Jamal Murray scoring 48 points in a 115-107 win over the Boston Celtics.
Point guard Murray drained five three-pointers in his points haul while laying on 4 assists and hauling down 5 rebounds.
The victory saw Denver improve to 9-1 to keep pace with the Warriors in the West.
Boston's scoring was led by Kyrie Irving with 31 points while Jaylen Brown and Jayson Tatum chipped in with 15 points apiece.
Irving meanwhile was incensed by Murray's late attempt at a three-pointer as the clock ran out in the fourth quarter, grabbing the ball and hurling it into the stands in disgust at the 21-year-old's perceived lack of respect.
"The ball deserves to go in the crowd after a move like that," Irving said. "So I threw it in the crowd."
'No disrespect'
Nuggets head coach Michael Malone denied Murray had been showing disrespect to the Celtics.
"He's young, he's still learning," Malone said.
"You never want to disrespect anyone. I think it wasn't disrespect; he was trying to get to 50 points, which you understand. But our veterans talked to him, and it's something he'll learn from."
The Toronto Raptors maintained their grip on the Eastern Conference standings with a 115-107 win over the Utah Jazz in Salt Lake City.
Raptors point guard Kyle Lowry was the standout performer for the visitors with 17 points, seven rebounds and 11 assists. Toronto star Kawhi Leonard did not play after failing to recover fully from a foot injury. – Rappler.com