The Elasto Painters bag their sixth win in 7 games to clinch a playoff berth and snatch the top seat from the Fuel Masters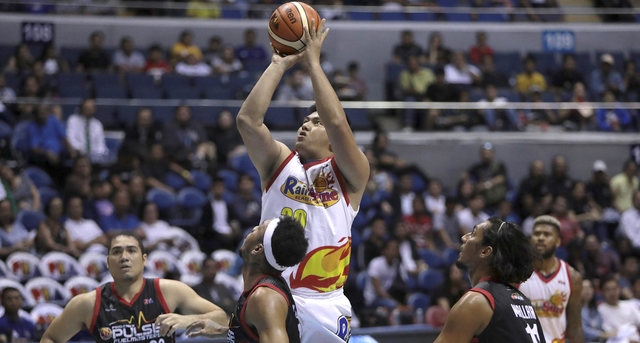 MANILA, Philippines – Phoenix's unbeaten run could only go for so long.
Rain or Shine puffed enough gas in overtime to deal Phoenix its first loss in the 2019 PBA Philippine Cup after a grind-out 98-94 triumph at the Araneta Coliseum on Sunday, February 10. 
The Elasto Painters squandered a five-point lead in the final minute but finally got things done in the extra period to improve to 6-1 and become the first team to clinch a quarterfinals berth.
Beau Belga was at the forefront of Rain or Shine's fourth straight win, submitting all-around numbers of 16 points, 9 rebounds and 7 assists while Kris Rosales tied his career-high of 16 points. 
Although quiet the entire game with 5 points, Mark Borboran delivered when it mattered most by knocking down the final shot with 12 seconds left in overtime that closed all doors on any potential Fuel Masters comeback. 
Calvin Abueva tried to shave Phoenix's deficit to a whisker but muffed his triple as Raymond Almazan secured the defensive rebound and the win for Rain or Shine. 
Maverick Ahanmisi finished with 13 points and 5 boards, Almazan had 12 markers while Rey Nambatac chipped in 10 points and 5 rebounds in the win. 
The Fuel Masters trailed by as much as 14 points the entire game, 56-70, and by as much as 8 points in the 4th quarter, 67-75, before riding on Jason Perkin's hot hands and Matthew Wright's heroics to forge overtime.
Down 82-87, Wright buried a stepback triple with under a minute left to make it a one-possession game for Phoenix while Perkins shrugged off Almazan's outstretched arms to bury the game-tying layup. 
James Yap, who led Rain or Shine in scoring with an average of 16.3 points in its first 6 games, went for the potential game-winning triple but to no avail. He was limited to 2 points on a 1-of-9 clip. 
Perkins saw his career-high 27 points and 9 rebounds go to waste as the Fuel Masters slipped to 5-1. 
Wright delivered 16 points, 7 rebounds and 5 assists while Abueva chalked up 16 points, 12 boards and 4 dimes in the losing effort. 
The Scores
Rain or Shine 98 – Belga 16, Rosales 16, Ahanmisi 13, Almazan 12, Nambatac 10, Norwood 8, Torres 6, Borboran 5, Maiquez 4, Daquioag 4, Yap 2, Mocon 1, Ponferada 1.
Phoenix 94 – Perkins 27, Wright 16, Mallari 12, Jazul 7, Kramer 6, Mendoza 5, Marcelo 3, Napoles 2, Dennison 0, Chua 0, Revilla 0.
Quarters: 24-20, 45-36, 70-61, 87-87 (reg.), 98-94 (OT).
– Rappler.com