(UPDATED) The UP Lady Maroons deal the La Salle Lady Spikers their first loss in a five-set UAAP volleyball thriller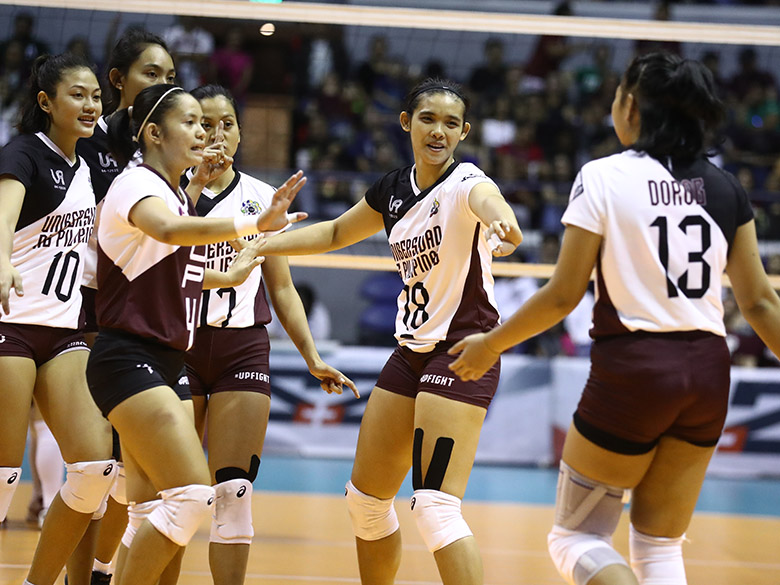 MANILA, Philippines (UPDATED) – The University of the Philippines (UP) Lady Maroons proved that it's just right to give them the preseason favorite tag.
UP pulled off a huge five-set upset over the La Salle Lady Spikers, 21-25, 25-20, 25-21, 20-25, 15-12,  in the UAAP women's volleyball tournament on Saturday, March 2, at the Araneta Coliseum. 
In dealing the defending champions their first loss, UP grabbed a share of the lead with La Salle at 3-1.
Isa Molde topscored for the Lady Maroons with 20 points off 17 attacks and 3 blocks while Tots Carlos also delivered with 19 points.
Veteran setter Ayel Estrañero, who sat out in the last game due to illness, returned to action and tallied 38 excellent sets while La Salle's Michelle Cobb had 21.
"It was a tough fight between us and La Salle, you could really see that they were fighting for the win too, but I guess we really wanted to win," said Estrañero.
La Salle rookie Jolina dela Cruz unloaded 19 points from 14 attacks, 4 blocks and 1 ace in the loss.
In the neck-and-neck 5th set, UP pulled ahead after back-to-back attacks by Molde and Jessma Ramos' ace, 11-8.
La Salle managed to tie the set, 12-12, but a May Luna error later gifted UP match point and a Justine Dorog hit ended the hard-fought match as the Lady Maroons completed the season's early shocker.
After dropping the 1st set, the Lady Maroons found their rhythm behind Molde in the next frame to even the match at one set apiece. 
La Salle took an early 14-9 lead in the 3rd set, but UP locked down the Lady Spikers with a 7-0 run.
UP's Ayel Estrañero gave up 2 points due to errors, but an attack error by La Salle's Tin Tiamzon sealed the set win for UP and marked the first time this season that La Salle trailed by two sets.
UP thought it could finish La Salle in 4 sets, but the battle-tested champions overturned an early 6-8 deficit.
The Lady Maroons' errors midway through the set then sparked La Salle's offense that extended the match to a decider.  – Rappler.com