After losing Milena Alessandrini to injury, UST vows to work doubly hard with Sisi Rondina and Eya Laure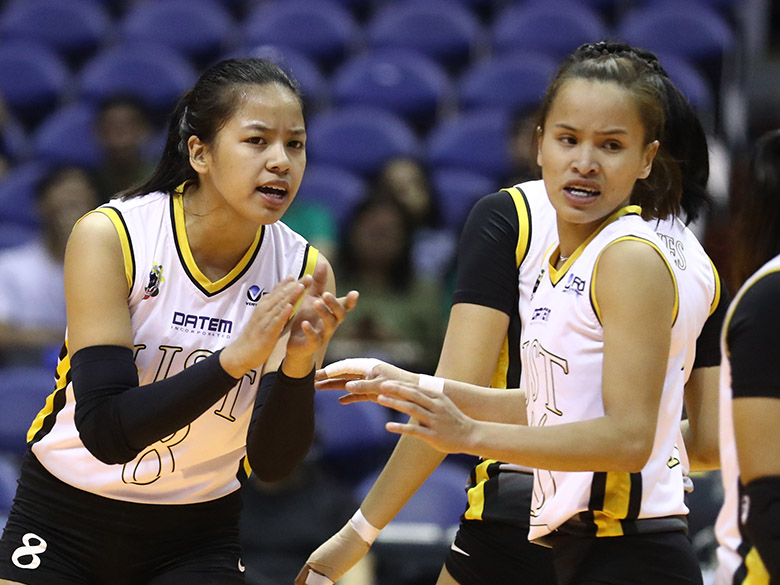 MANILA, Philippines – University of Santo Tomas (UST) may have suffered a big blow, but team captain Sisi Rondina and rookie sensation Eya Laure vow to lead the Tigresses back on the winning track in the UAAP women's volleyball tournament. 
Fil-Italian Milena Alessandrini, one of the team's top scorers, suffered an injury in the Tigresses' loss to Far Eastern University (FEU) last weekend. In the same game, both Rondina and Laure also had to play through pain.   
"Siyempre ipapanalo namin lahat ng game namin para sa kanya (Alessandrini)," said Rondina. "Double time kami para kay Milena, and not just Milena pero for all the supporters ng UST." 
(We want to win our games for Milena and we have to work doubly hard for Milena and the supporters of UST.)
Alessandrini sustained a partial tear on her anterior cruciate ligament (ACL) and a grade 3 sprain on her medial collateral ligament (MCL) and lateral collateral ligament (LCL). 
The opposite spiker, who won the Rookie of the Year award last season, will focus on her rehabilitation first. "If stable, [she will] continue to play with knee support," said UST coach Kung Fu Reyes.
Minus Alessandrini, the Tigresses know they have to toughen up, just like what Rondina and Laure did in their game against FEU.
Rondina suffered cramps on both legs during the 3rd set due to fatigue.
"Kailangan ko bumalik kasi nawala na si Milena (I needed to come back because we lost Milena)," said Rondina. 
Laure also endured right shoulder pain before getting subbed out in the final set as she received ice treatment on the same shoulder she injured during the preseason. After resting for a few minutes, Laure still managed to come back and finish with a game-high 20 points.  
But on Wednesday, March 6, it's not just Laure and Rondina who need to take charge as the rest of the Tigresses must step up when they face defending champion La Salle at 4 pm at the Filoil Flying V Centre.  – Juro Morilla/Rappler.com