After storming off the Honda Classic, World No. 1 Rory McIlroy apologized for the blunder and vowed not to do it again.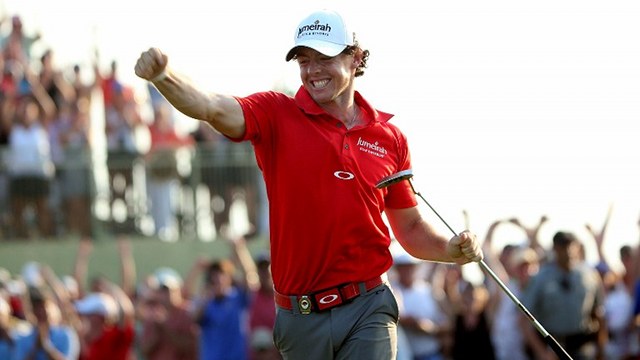 MIAMI, United States — World No. 1 Rory McIlroy apologized Wednesday for walking off the course in the middle of his second round at last week's PGA Honda Classic, saying he learned from the error and will not do it again.
On the eve of playing his first round at the $8.75 million World Golf Championships Cadillac Championship at Doral alongside World No. 2 Tiger Woods and England's Luke Donald, McIlroy said he made a big blunder by leaving early.
"I realized pretty quickly that it wasn't the right thing to do," McIlroy said. "No matter how bad I was playing I should have stayed out there."
'My head was all over the place'
Starting on the back nine in his second round last week, McIlroy had two bogeys, a double bogey and a triple bogey before hitting his tee shot at the 18th into the water and walking off the course.
"I wasn't in a good place with my golf game. My head was all over the place," said McIlroy, who blamed the walkoff later on a sore wisdom tooth that he said did hurt but was no excuse.
"It was a mistake. Everybody makes mistakes," McIlroy said. "Most of my mistakes are in the public eye.
"I'm 23. I'm still learning.
"I have learned from it and it won't happen again."
The Northern Ireland prodigy said he felt the Honda Classic deserved a return visit.
"I owe it to the tournament to play again," McIlroy said. "I don't see any reason why I wouldn't play it next year."
Blessing in disguise
McIlroy said that he has received many supportive comments since the incident and hopes it will help him as he tries to return his swing to the formidable form that brought him the 2011 US Open and 2012 PGA Championship titles.
"In the long run I think Friday will be a blessing. It was like a release valve," McIlroy said.
McIlroy also said the swing problems were his and not a result of problems with new equipment as he adjusts to switching to new sponsor Nike's offerings this season.
"I know it's purely the swing. The equipment is fantastic. No problem at all," he said. "When I make a good swing it does exactly what I want.
"It doesn't make a difference what clubs I play."
McIlroy also dismissed the idea that his woes came because he and girlfriend Caroline Wozniacki, the former women's tennis World No. 1 from Denmark who lost a first-round match a week ago at the Malaysian Open, were breaking up.
"Just because I have a bad day on the golf course and Caroline loses a match in Malaysia does not mean we are breaking up," McIlroy said. "I'm looking forward to seeing her next week."
No to closing off to media
Other speculation had McIlroy closing himself off to the media as he becomes more successful, much the way Woods guarded his privacy after a McIlroy-like openness in his younger days such as when he won his first major at the 1997 Masters.
"I don't want to jeopardize that (relationship) by being closed," McIlroy said. "I don't want it to be that way, that there's friction between me and the press. I don't want it to be a strained relationship because it's going to be a long one."
Despite having only 4 1/2 competitive rounds entering this week after missing the cut at Abu Dhabi and going out in the first round of the WGC Match Play ahead of his Honda pullout, McIlroy said he is unlikely to add an event before the Masters in a month.
That means this week and Houston in three weeks are his final pre-Augusta tournaments.
Trying too hard to defend No. 1 ranking
"I was waiting to see how I do this week," McIlroy said. "Right now I haven't made a decision. The likelihood is I won't add an event. It's a posibility. I don't think it's likely."
McIlroy blamed some of his mental problems on trying too hard to defend his World No. 1 status after five wins including a major in 2012 and getting away from just enjoying golf.
"It's a lot of fun out there and I had just forgotten that this year," said McIlroy. "I was putting a lot of pressure on myself to perform. I just really wanted to keep up where I left off in 2012.
McIlroy said his swing felt "alien" to him now.
"I'm trying to change my swing but I'm trying to change it back to where it was. I have been in that position before and I can get it back again," McIlroy said.
"There's no quick fix in golf. You've got to get to the root of the problem. It's still a work in progress." – Rappler.com