La Salle and San Beda slip past separate foes to arrange a title showdown in the preseason tournament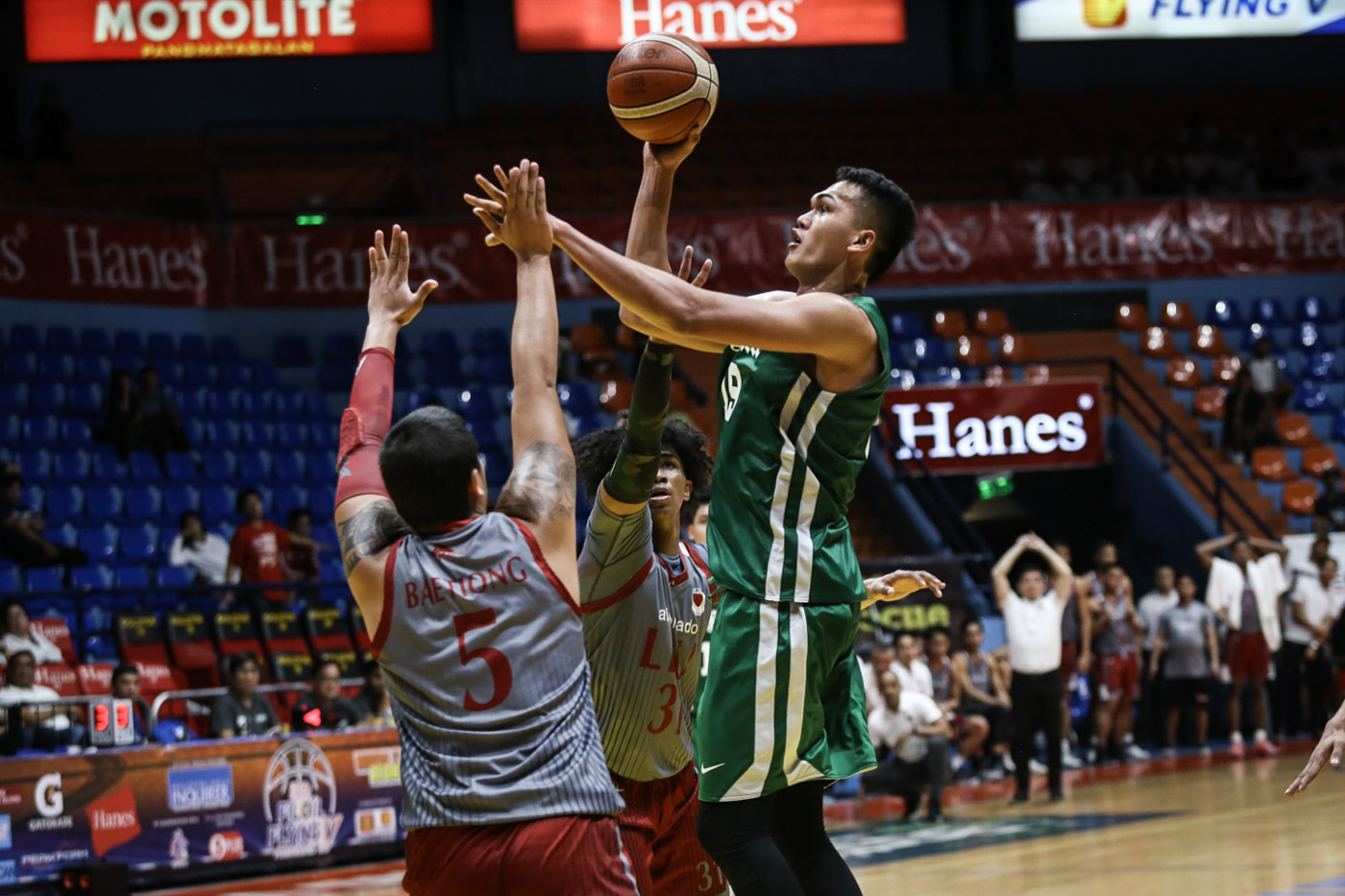 MANILA, Philippines – Expect a clash of the titans in the 2019 Filoil Flying V Preseason Cup Finals after powerhouse teams La Salle and San Beda pulled off hard-fought semifinal wins in San Juan on Thursday, June 20.
The Green Archers had to rely on a mix of grit and luck at crunchtime to swing a seesaw affair against Lyceum in their favor, 82-80, following a monster performance from star big man Justine Baltazar. 
With 6 seconds left in the game, La Salle was up by a point when Lyceum's Reymar Caduyac found space and a chance to steal the game but missed a potential game-winning layup.
La Salle spitfire guard Encho Serrano, who tallied 20 points, then split his free throws which left the Pirates with another opportunity to snatch the game but Jayson David's halfcourt heave rattled off the rim.
The 6-foot-7 Baltazar finished with an impressive double-double of 22 points and 22 boards, providing an imposing presence in the shaded area against the much smaller Pirates. 
Meanwhile, San Beda needed a pivotal final frame to send Adamson packing, 75-70, in what turned out to be another tightly contested game. 
The Red Lions' frontline trio of James Kwekuteye, Donald Tankoua, and Clint Dominguez proved too much for the Soaring Falcons, who committed an uncharacteristic 18 turnovers. 
Kwekuteye topscored for the NCAA champions with 16 points but it was Adamson forward Aaron Fermin who shone in the second half, being the only bright spot of his squad by posting 22 points with 4 coming from beyond the arc.
Despite the Red Lions' shooting struggle from the three-point line, it was a long-range dagger from Calvin Oftana with over a minute left that took the control from Adamson.
A myriad of turnovers from both teams ensued but Kwekuteye calmly sank two pressure-packed free throws to take the game away from the Falcons' reach and seal the deal for San Beda. 
The championship game – a rematch of the 2017 Finals of the preseason tournament – will be played at 4 pm on Sunday, June 23 also in San Juan.
The Scores
First Game:
La Salle 82 – Baltazar 22, Serrano 20, Bartlett 12, Melecio 9, Caracut 7, Lojera 5, Cagulangan 2, Bates 2, David 2, Cu 1, Bonggay 0, Lim 0.
Lyceum 80 – Valdez 15, Santos 15, David 13, Caduyac 10, Ibañez 9, Marcelino 8, Navarro 6, Baetiong, 2, Yong 2, Tansingco 0, Laurente 0.
Quarters: 29-27, 46-44, 66-64, 82-80.
Second Game:
San Beda 75 – Kwekuteye 16, Tankoua 15, Doliguez 14, Nelle 8, Oftana 8, Noah 7, Bahio 4, Penuela 3, Abuda 0, Etrata 0, Alfaro 0.
Adamson 70 – Fermin 22, Ahanmisi 13, Lastimosa 10, Douanga 9, Camacho 7, Yerro 5, Sabandal 2, V. Magbuhos 2, Zaldivar 0, Bernardo 0, Manlapaz 0, Maata 0.
Quarters: 14-15, 36-35, 51-53, 75-70. 
– Ferdin Sanchez/Rappler.com