After making an impression in the Jr NBA regional camp, 4 young Filipinos earn spots in the global youth basketball tournament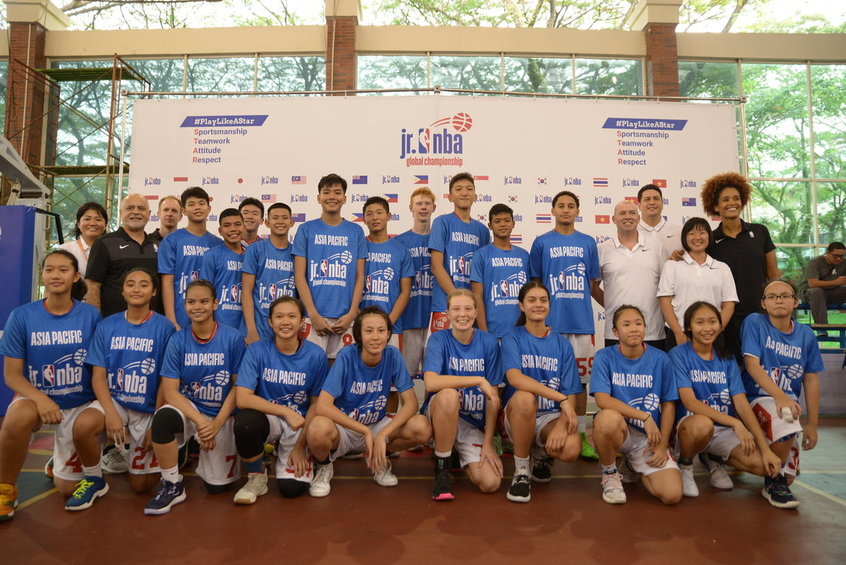 MANILA, Philippines – Four young Filipino basketball players will represent Asia Pacific in the Jr NBA Global Championship in August 6 to 11 at the ESPN Wide World of Sports Complex at Walt Disney World near Orlando, Florida. 
Heinz Gabriel Demisana, Sebastian Reyes, Lionel Matthew Rubico and lone Filipina Camille Nolasco emerged among the top performing players in the first-ever Jr NBA Asia Pacific Selection Camp last June 15 to 16 at the Universitas Pelita Harapan (UPH) in Jakarta, Indonesia.
"When I first saw my opponents, I didn't expect to be here since they're so tall, but I brought the Filipino mentality puso (heart) which helped achieve my goal of being part of the Jr NBA Asia Pacific girls team," said Nolasco. 
The Jr NBA Global Championship is a youth basketball tournament featuring the top 13- and 14-year-old boys and girls teams from around the world.
"I'm excited for the competition in the United States because it will be a lot harder than in Asia," said Reyes. "Representing the Philippines is a big deal for myself because not all kids have an opportunity to play for their country."
During the Jakarta camp, the Filipino bets vied for slots against 34 boys and 34 girls from Australia, Indonesia, Japan, Korea, Malaysia, New Zealand, Philippines, Singapore, Thailand, and Vietnam. 
JR NBA coaches Carlos Barroca, Rob Newson and Natalia Andre led the two-day camp, which taught participants various lessons, including how to execute technical and tactical skills and develop teamwork among players speaking various languages and coming from different cultural backgrounds. 
"My coaches always reminded to go hard to the basket, not be afraid, believe in myself, and fight with all my heart," said Rubico. "I'm looking forward to meeting new friends and challenging the talented players from around the world."
The event, presented by Alaska, with AXA, Gatorade, Globe, Panasonic, Rexona and Vivo as official partners, also had the young athletes participate in the skills challenge during the All-Star Night event that featured Indonesia Jr NBA alumni and personalities, including professional basketball player Daniel Wenas.
"Basketball has given me many opportunities with one of them being able to play in the Jr NBA program," said Demisana. "I'm very proud to join the Asia Pacific team competing in the Jr NBA Global Championship."
For more information visit www.jrnba.asia/philippines and on Facebook; the NBA at www.nba.com and on Facebook and Twitter; and Alaska Sports at www.alaskamilk.com  and on Facebook. – Rappler.com