Arwind Santos sticks to the positives after San Miguel absorbed a 36-point beating from Magnolia – the team it beat in 7 games for the Philippine Cup title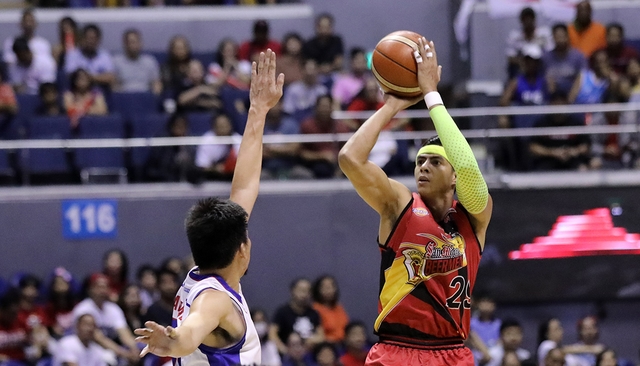 MANILA, Philippines – Even in the face of a 36-point loss, Arwind Santos still found a silver lining. 
Santos chose to stick to the positives after San Miguel was given a sound 82-118 beating by Magnolia in the PBA Commissioner's Cup on Wednesday, June 26. 
It was the second loss by at least 30 points for the team after opening the conference on the end of a 33-point drubbing from NorthPort.
"I'm the kind of person who turns the negative to positive. It's already a given that not everything that will happen in your life is positive or will favor you," Santos said in Filipino after the game. 
"We've been beaten by [36 points], but we think of it in positive way like, 'Okay, we'll rather be defeated by 50 points instead of losing a Game 7." 
It was the first meeting between the Beermen and Magnolia since they tangled in a winner-take-all Game 7 for the Philippine Cup championship last month. 
In that game, San Miguel trailed by as many as 17 points before staging a monumental comeback to stun Magnolia and emerge as the only team in PBA history to clinch the All-Filipino crown for 5 straight seasons. 
"We try to be positive so that we will remain confident in these kinds of losses. If this happens to a different team, it will hurt. What we think about is the conference is not yet over and we still have a chance," Santos said. 
"It's not like just because San Miguel has proven so much that we can't lose this big. We all saw what happened. They played great and their shots were falling unlike us." 
Despite suffering their fourth loss in 6 games to start the tournament, Santos has faith that they can accomplish their goal of finishing within the top 6 and avoiding a twice-to-beat disadvantage in the playoffs.
"The door is not closed on that part. I think we [made some bad] decisions, we're confused how to execute. We need to fix that." 
San Miguel eyes to get back on track when it faces Columbian at the Araneta Coliseum on Sunday, June 30. – Rappler.com