Danijela Dzakovic shockingly hits Balipure libero Jewelle Bermillo after a fumbled play, but the Montenegrin spiker later apologizes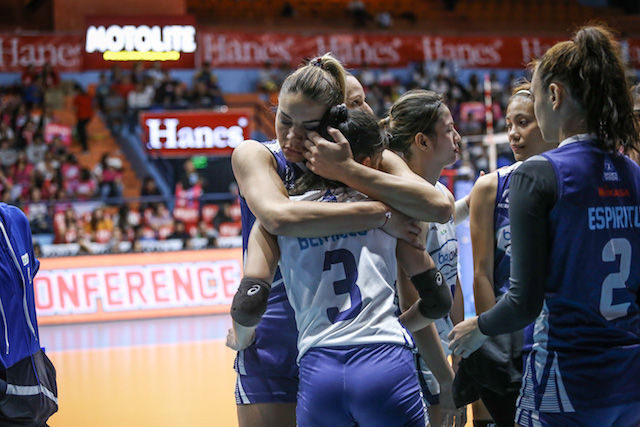 MANILA, Philippines – Balipure import Danijela Dzakovic faces possible sanctions for unsportsmanlike behavior after striking libero Jewelle Bermillo on the back of the head after a fumbled play during their game against Creamline at the Premier Volleyball League (PVL) on Saturday, June 29. 
The FIVB, the international volleyball federation, penalizes players who display aggression such as physical attacks or threats during a match.  
In the incident, the Montenegrin spiker shockingly hit Bermillo after a miscommunication on receiving Jema Galanza's off-speed attack that sealed the opening set win for Creamline, 25-19.
Under FIVB rules, Dzakovic should have been disqualified by the first referree in the moment of the attack, but the incident was ignored as Balipure ended up losing in straight sets to defending champion Creamline. 
After the match, PVL officials immediately met and discussed the possible sanctions to be slapped on Dzakovic. 
The first referee also faces likely penalties for failure to act on the case immediately. 
Bermillo was left in tears after the hit as her contact lenses fell, but continued to play for the rest of the game.
Dzakovic, though, admitted that emotions got the better of her, but assured everyone that she has settled the matter with Bermillo and the team.
Balipure wrapped up its 2019 Reinforced Conference campaign winless in 10 games.  – Rappler.com