PVL organizers argue that the remorseful gesture of Danijela Dzakovic towards Jewelle Bermillo after the incident was not televised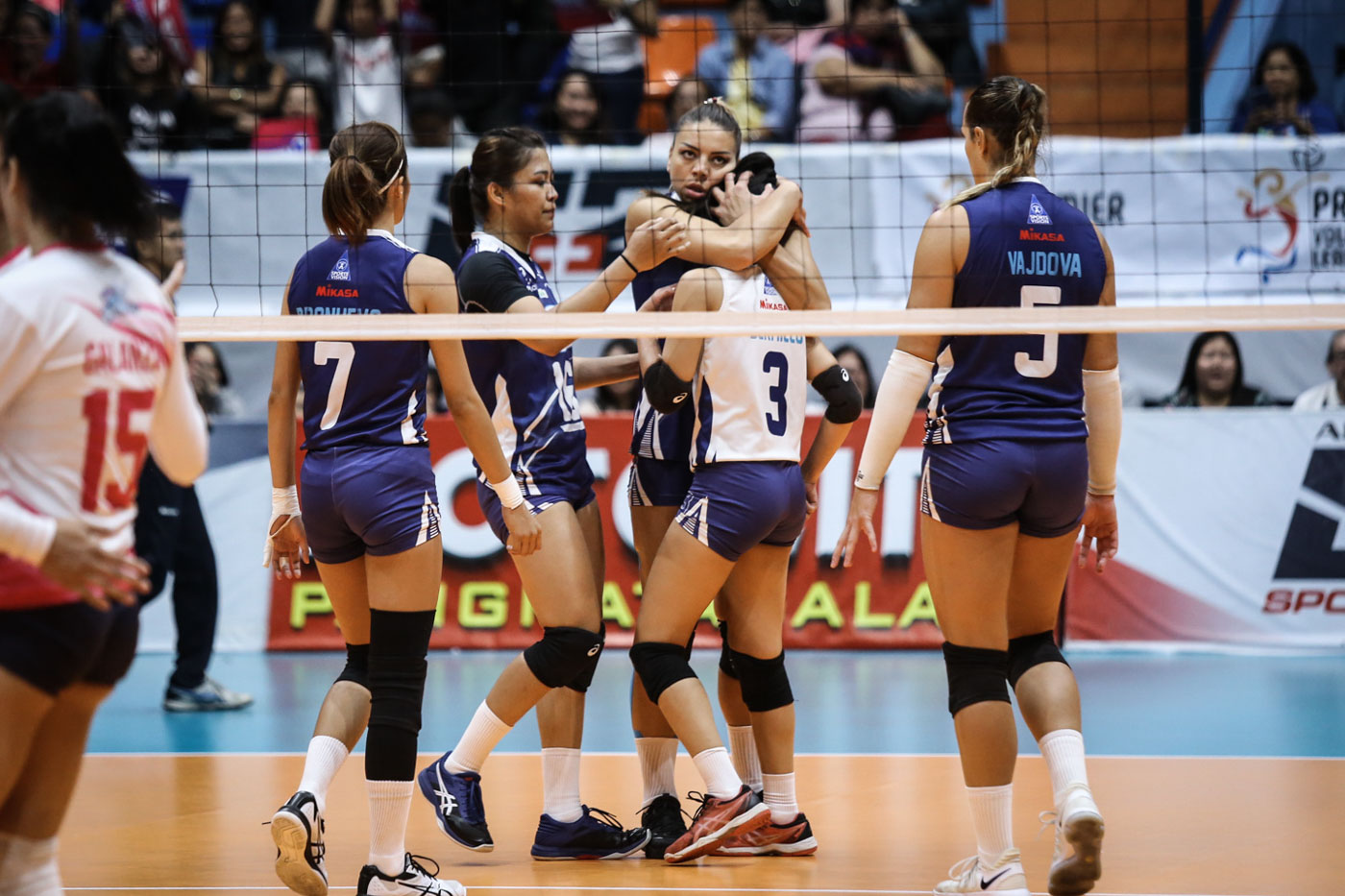 MANILA, Philippines – Premier Volleyball League (PVL) organizer Sports Vision Management Group Inc (SVMGI) reprimanded import Danijela Djakovic of Montenegro on Sunday, June 30, for striking the back of Balipure teammate Jewelle Bermillo's head. 
"Such uncalled-for act has no place in the league and though she (Djakovic) had issued an apology right after the incident, which Bermillo accepted, we view this act (of Djakovic) as offensive not only to Bermillo but also to the sensibilities of all stakeholders of the sport and its ever-growing fans," said Ricky Palou, president of SVMGI. 
Dzakovic was not slapped with any sanctions and was merely given a warning. 
Palou, however, stressed that a repetition of the act – by any erring player – will be dealt with more severely.
"We invite these imports to spice up the tournament, primarily for the fans, and at the same time share their expertise with the local players," said Palou. "Conversely, we expect them to play and be at their best, game-wise and character-wise."
The 5-foot-9 Montenegrin spiker hit Bermillo on the back of the head on impulse after a miscommunication between them occurred in receiving Creamline Cool Smasher Jema Galanza's off-speed attack that wrapped up the opening set, 25-19. 
Shocked, Bermillo was reduced to tears as her contact lens also fell from the impact of the strike.
The incident immediately went viral, infuriating fans on social media.
According to Palou, it was not televised that Djakovic profusely apologized to Bermillo, embracing her and assisting her all the way to their bench.
This gesture decreased the severity of the sanctions to be imposed on the Balipure import. 
"I said I'm sorry. I'm so close to her and I love her. I just hugged her since I cannot explain this," said Djakovic, stressing that emotions got the best of her that even she, herself, was surprised with what she did.
"I was not able to control my emotions." 
Bermillo accepted Djakovic's apology and said she was really shocked for what had happened.
"Miscommunication. Parehas kaming nag-mine tapos parehas namin in-attempt yung bola," said Bermillo. "Nag-apologize naman siya, sabi niya nadala lang siya sa emosyon niya." 
"Sobrang nagulat ako [sa pagbatok]. Tinawanan ko po pero hindi ko napigilan sobrang sakit pero okay lang part ng game," added the libero. 
(It was a miscommunication. We both said "mine" at the same time and we both attempted to get the ball. She apologized to me and admitted that she was carried away by her emotions. I was just really shocked with the hit. I just laughed about it, but I couldn't hide the pain. It's okay, it's just part of the game.) 
Balipure coach Rommel Abella said he understood that the unwarranted strike was done in the heat of the moment, but didn't hide his disappointment over his import.
Dzakovic was also remorseful for her unexpected aggression during the game.
"I'm so disappointed of myself and I want to say sorry to all fans and people who followed us and supported our games," said Dzakovic, who left the Philippines on Sunday.
"I have been playing volleyball for 16 years but this is the first time it happened. I cannot believe (I did that). I'm shocked."
Balipure lost the match in straight sets, 19-25, 15-25, 18-25, and finished without a win in 10 games. – Rappler.com