It's been a year since Philippines and Australia figure in the infamous bench-clearing basketbrawl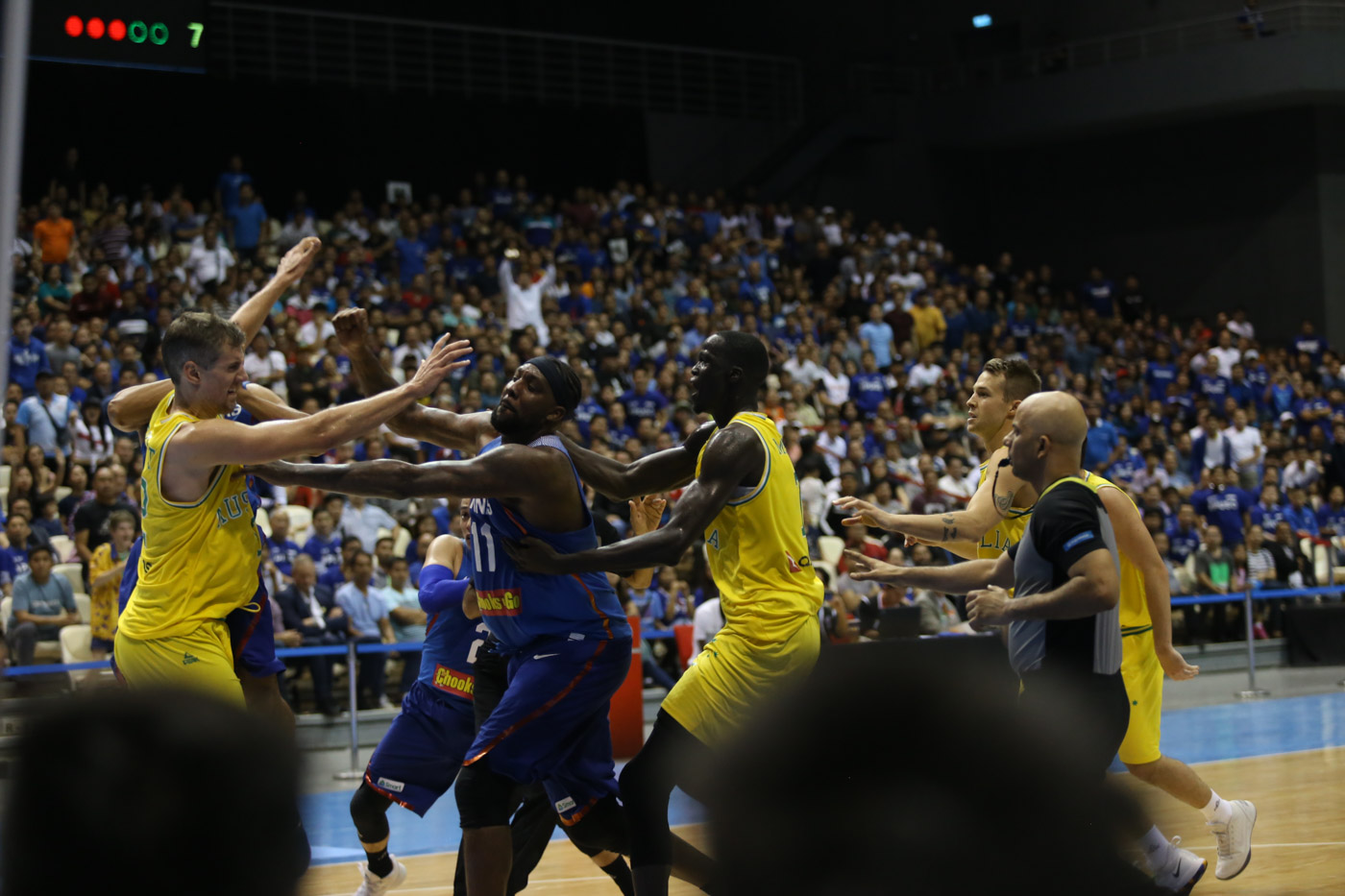 MANILA, Philippines – On July 2, 2018, Gilas Pilipinas and Australia shocked the world with a bench-clearing melee, which was dubbed 'the worst basketball brawl' in recent years. 
Things went out of hand as punches, kicks and even chairs were thrown between the Filipinos and the Aussies during the 3rd quarter of the 2019 FIBA World Cup Asian Qualifiers game at the Philippine Arena in Bulacan. 
Thirteen players – 9 from Gilas and 4 from Australia – were thrown out of the game for engaging in the free-for-all. 
The Philippines lost the game by default, 53-89. 
After the game, Gilas head coach Chot Reyes said the brawl was "absolutely unacceptable," but called out Aussie Daniel Kickert for provoking the Filipinos. 
After hearing out apologetic statements from both sides, FIBA – the world governing body for basketball –  handed down the suspensions to 10 Gilas players with Calvin Abueva receiving the longest suspension of 6 games.
Gilas head coach Chot Reyes served a one-game suspension and was slapped with a disciplinary fine of 10,000 Swiss francs for his 'Hit somebody' remark. 
In Australia's side, Daniel Kickert, NBA player Thon Maker and Chris Goulding were suspended.
The 3 referees who officiated the game were suspended for one year. 
After all the drama, the Philippines and Australia managed to successfully continue their 2019 FIBA World Cup qualification journey and will see action in China. (Stars align: Gilas Pilipinas advances to FIBA World Cup)
2018: Gilas Pilipinas' Wild Ride
Part 1 | Brawl that shocked the world
Part 2 | FIBA drops the hammer
Part 3 | Roller-coaster Asiad buildup
Part 4 | Major revamp
Part 5 | The Jordan Effect
Part 6 | Slim chances
– Rappler.com