News agencies across Southeast Asia paint an unflattering picture of the start of SEA Games advance events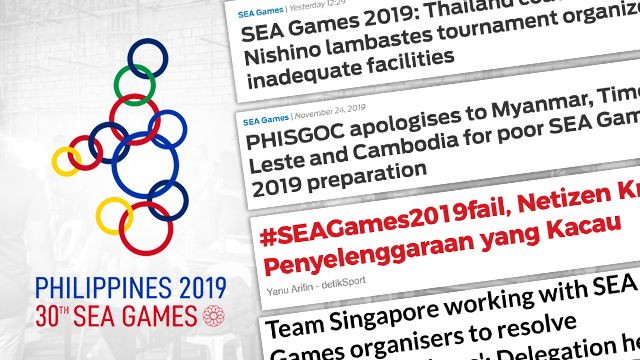 MANILA, Philippines – With advanced events of the 2019 Southeast Asian Games now being played – like football and polo – athletes, officials, and members of the media got their first glimpse of the regional sporting event set to formally unfurl on Saturday, November 30.
The foreign media, who started arriving Sunday, November 24, experienced the venues, as well as conduct of the games, and have filed their pre-event stories. 
And if indeed first impression lasts, the organizing Philippine Southeast Asian Games Organizing Committee (PHISGOC) headed by House Speaker Alan Peter Cayetano  will have work double-time to overcome the sordid reports.
Here are some of the dispatches filed by media from among the 11 countries competing in the regional sporting event.
 "Trouble greets Thais in Manila" said the headine of Thai English newspaper Bangkok Post, citing the criticism of football teach coaches from the region, including Thailand, of inadequate facilities.
Foxsports Asia reported, "PHISGOC apologises to Myanmar, Timor Leste and Cambodia for poor SEA Games 2019 preparation."
"#SEAGames2019fail, Netizens Criticized for the Disorganization," reported the Bahasa-language Indonesia news site Detik.com.
Detik.com also reported on troubles hounding preparations for the biennial sports competition: "SEA Games Chaos, Philippine Journalists Apologize."
In its report, "Philippines apologises over SEA Games mess," Singapore-based Channel News Asia detailed the problems encountered by various teams because of logistical blunders of the host country. 
Channel News Asia also reported on the Singapore team's efforts to work with Philippine organizers to overcome some problems: "Team Singapore working with SEA Games organisers to resolve 'teething problems': Delegation head."
Another Singapore news agency, The Straits Times, reported: "SEA Games: Singapore's football, netball and floorball teams face catering, logistical issues in Manila."
"A mess in Manila but Ong's men get lucky," reported Malaysiam news site , The Star Online.
The Star Online also reports about the swimming pool at the New Clark City: "Short pool test has coach Martin on a short fuse." – Rappler.com