The Azkals and Turkmenistan are tied at 0-0 at the half of their AFC Challenge Cup Qualifiers match at the Rizal Memorial Football Stadium.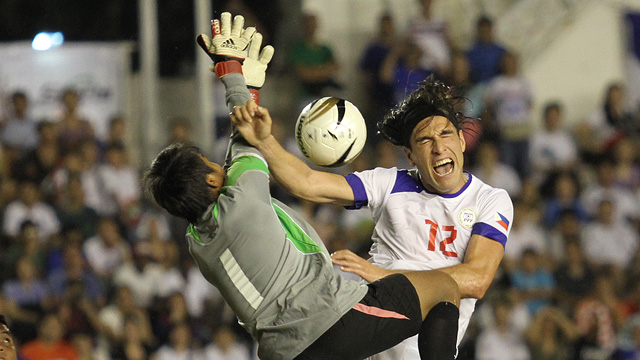 MANILA, Philippines – After 45 minutes of regulation, there is still no clear indication on who is the dominant side between the Philippine Azkals and the Turkmenistan Green Men in their match in the AFC Challenge Cup Qualifiers in Rizal Memorial Stadium on Tuesday, March 26.
Both teams have had their fair share of chances but both were unable to convert these chances into goals. The first chance came for the Philippines in the very first minute after Stephan Schrock made a steal and passed to Phil Younghusband, whose strike hit the post.
Another chance came in the Azkals plate in the 3rd minute after Schrock's corner fell into Javi Patino, who headed it skyhigh.
Turkmenistan's chance came in the 12th minute after a Turkmenistan player saw a hole in the Azkals defense and went on a one-on-one with Muller but shot was saved.
In the 36th minute, the Green Men garnered a freekick and made it a potent chance but Muller was up to the task and saves the ball.
Both teams are showing very good defense and are both intent to keep a clean sheet for the rest of the game.
Second half action will resume in a couple of minutes. – Rappler.com