Want to know who the happiest national rugby team in the world is? It's none other than the Philippine Volcanoes.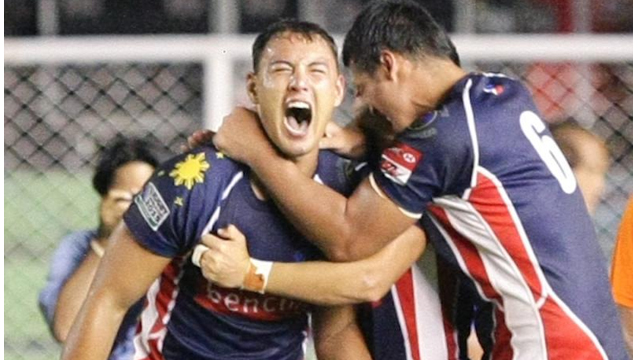 MANILA, Philippines — One of the peculiarities of playing in the HSBC A5N rugby tournament is that all teams stay in one hotel. After physically assaulting each other on the field, players return to the same hotel sharing the pool, dining room and other facilities.
As players walk past each other in the corridors, congratulations and commiserations are exchanged. No grudges are held; everyone smiles although some teams are definitely smiling more than others.
It's a strange game isn't it? Savages on the field, nice guys otherwise. 'A thugs game played by gentlemen' as they say. Enemies in combat yet best of friends post-battle. This is rugby culture and it's almost beyond belief, especially for Filipinos.
Forced lesson in humility

Really it couldn't be any different because losing in rugby is a forced lesson in humility. Being 'beaten up' on the scoreboard suggests you've also been physically overpowered on the field. For the losers there can be no excuses and any attempt would be lame. The only remedy for now is to laugh and enjoy the company. The war will continue the following week.
Over my three years as head coach I have observed the team dynamics at these hotels with great interest. I monitored teams at meals, at trainings and during free time. I can safely say one thing for sure; no team laughs like our Volcanoes. They are genuinely having the time of their lives. It's more fun in the Philippines rugby team!
This may seem surprising as the players only come together the week prior to each tournament. Other national teams train and bond together all year. It seems the extended time apart only makes the shortened time together even more valuable. They are always excited to reunite. There is just so much to catch up on.
'Brothers from another mother' 
The Volcanoes players always eat together. Pool recovery sessions are riddled with light-hearted banter, no one is exempt. When other teams cram in another training session, the Volcanoes are together at the movies or going bowling. We have the second best win-loss record in Asian rugby.
Are we laughing because we're winning? I'd like to think it's the other way around.
They call each other 'brothers from another mother'. Brothers who haven't laughed together in a while, who haven't fought together in a while. The strength of the Volcanoes lies in unity. It is forged off the field and demonstrated on it. Everyone, working towards the same goal, in the same way, at the same time.
I'm not suggesting for one minute that there are no difficult personalities within the team or that Manila is some rugby nirvana. In fact I can vividly recall a number of very heated altercations between players at various training sessions. But in the end the egos are put aside and our easy-going nature takes over.
Real source of competitive advantage 
This is a great Filipino trait. On the one hand it can be the cause of mediocre performances, on the other it can be a real source of competitive advantage. We certainly have a lot to learn from other cultures but perhaps this is what we can offer to the rest of the world.
This is a challenge for every player within a team environment. Stick to the game plan. Follow instructions. Play for the team not for yourself. Make that extra effort when it seems impossible. If changes are required, communicate that change clearly but be prepared to accept another opinion. Be humble. Be united.
The challenge for the coaching and management staff is to create an environment so that players consistently act in this manner in every aspect of their lives. It needs to become routine, a habit, an automatic response that manifests itself on and off the field.
Coaches live and die by results. At times this may not seem fair, as players too need to be accountable for bad performances. But those bad performances can also be attributed to the coaching staff in failing to provide different opportunities and scenarios for those players to perform consistently.
Be creative and have more fun

Whether it be coaching, business management or within any leadership role, the principles are the same. Be creative and have more fun! Do the same but in surprisingly different ways. Make them reflect and understand what it is they are actually trying to achieve. Let them be active participants in the building of team strategy and goals. Bond together within and outside of the normal working environment.
This, of course, poses a huge investment of time on everyone's behalf, none more so than the person in charge. More 'think time' is required. This demandingness on self will be reflected in those we lead. This in turn leads to greater team discipline and unity, which is the antidote to having 'too much fun'.
What about the talented player who every coach can't seem to do without but at the same time continually poisons the team with selfish behavior. The answer is simple. Point to the exit door. It will be easier to up-skill another player than to waste time changing this type of behavior.
And if this holds true for players then it's even more imperative for staff. If you want change in your organization, start from the top and look to see if everyone is on the same page. It doesn't mean we have to be the same but it does mean we all head in the same direction. To improve the sporting landscape of this country we need great unity amongst our sports administrators. It's time to find that great Filipino trait.
Success begins with a united staff 
Success for the Volcanoes began with a united staff. I was given free rein to choose my assistant coach and support staff. I called out to my good friend Jarred Hodges, someone I had coached against and coached with for many years. Coach Jarred is the master of getting 'buy-in' from his players and he was key in shaping the current culture of the Volcanoes. We played 'good cop – bad cop', our skill sets were different, we argued often but in the end we always agreed on the course of action.
The Volcanoes continue their Rugby World Cup qualification campaign by going into camp this weekend. I look forward to what Coach Jarred and the team will serve up to the elite teams of Asian Rugby. I know for sure they will compete fiercely but I'm even more certain they will have loads of fun in the process. – Rappler.com