College hoops season is on and Enzo Flojo shares with us his first impressions of the teams that played in the FilOil tourney.
MANILA, Philippines — The 2013 Filoil Flying V Preseason Premier Cup opened Saturday, April 13, with three mighty exciting games pitting some of the most highly-touted teams in the collegiate hoops landscape.
Roundup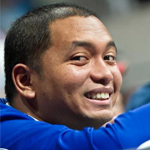 NU vs San Beda – In the first game, Ray Parks forced overtime with 2.5 seconds to go by hitting a big triple against the San Beda Red Lions. The NU Bulldogs then outplayed their Mendiola counterparts in the extra five minutes, with 6'7" Troy Rosario putting the canines ahead for good via a putback jam.
Parks had a great all-around game, producing 23 points, 8 rebounds, and 4 assists, while new Cameroonian big man Alfred Aroga tallied 16 points and 12 boards. For his part, Rosario had an impressive double-double with 12 markers and 13 caroms. Rome Dela Rosa and Ola Adeogun each scored 19 for San Beda, but Adeogun grabbed only 4 rebounds.
UST vs DLSU – The second game saw the UST Growling Tigers leading most of the way before crumbling in the face of unrelenting pressure by the DLSU Green Archers in the final frame. Rookie slotman Jason Perkins was a revelation, scoring 17 points and grabbing 13 rebounds, while super soph Gabby Reyes was a picture of confidence with 13 markers.
UST was still up by 5 points late in the game before the Greenies unleashed a searing 13-2 finishing kick to upend the 2012 PCCL champs. The Tigers, who were without coach Pido Jarencio, leaned on the dynamic duo of Jeric Teng and Aljon Mariano for most of the affair, but they couldn't contain Perkins, whose muscle was too much even for seasoned campaigner Karim Abdul.
DLSU also exploited the void left by Jeric Fortuna, who already graduated. The point guard trio of Robin Tan, Ed Daquioag, and Jamil Sheriff struggled all game long. In the end, Teng and Mariano paired up for 59 points, while stretch-forward Kevin Ferrer and Abdul contributed just a combined output of 2 points. Ferrer also fouled out.
Ateneo vs SWU – In the closing game, Ateneo had to scramble in the final minutes to stave off a spirited challenge from guest team, Southwestern University, which was bannered by three African reinforcements – Fabrice Siewe, Landry Sanjo, and Justin Aboude.
Wunderkind Kiefer Ravena teamed up with Nico Elorde and the debuting Chris Newsome to lead the Eagles' debut Filoil win under new coach Bo Perasol. Ravena finished with 22 points, 7 rebounds, and 5 assists, while Elorde torched the nets with 4 treys on his way to 19 points and 5 dimes. Newsome chipped in a nifty double-double line of 14 markers and 11 boards.
This game confirmed what many observers had already assumed – that the six-peat-seeking Blues would have to rely on their quickness and shooting in the face of the frontline vacuum left behind by the departure of Greg Slaughter, Nico Salva, and Justin Chua. The Ateneans visibly struggled against the more sizeable SWU frontcourt, even if both veterans JP Erram and Frank Golla did play.
The Cobras' game, though, was far from one-sided, as Monbert Arong and Bon Guillena provided firepower from long range. SWU actually whittled down Ateneo's 14-point second half lead to just single digits late in the fourth, but they just ran out of time. Guillena led the Cobras with 23 points, while the 6'11" Siewe tossed in a dozen markers.
First impressions
Having maybe the most popular collegiate teams all open the Filoil wars, and, by default, the college wars in general, was a stroke of genius. And then having the SWU Cobras, the former school of now-Archer Ben Mbala and maybe the most stacked team outside of the capital, in the mix was also pretty awesome.
If the promise of each team's first day performance holds true, then perhaps the following scenarios/impressions will manifest throughout the coming season:
– The most noticeable thing yesterday was the big change in Ateneo. The departure of many key personnel (Norman Black, Slaughter, Salva, etc.) clearly has effects that go deeper than the cosmetic. The post game is practically absent. The offense almost always will go through Kiefer Ravena, who will have a much tougher time making plays as opposing teams will build their defensive schemes exclusively around him. No more big guys to draw the double-team and create creases in the defense. Ravena will have to be much more creative this season. That doesn't necessarily mean his numbers will go down, of course. I mean, this is Kiefer Ravena we're talking about. He's a once-in-a-generation talent in these parts, and we're actually lucky enough to have Ray Parks in the same generation as him, too!
– UST will be solid this season, but someone will have to do a better job of calling the shots ala Jeric Fortuna. I don't think Tata Bautista can do it because he's a born shooter. He was a bit of a playmaker in high school when he was still with Benedictine International School, but he has changed A LOT since then.
The onus will be on the likes of Robin Tan, Ed Daquioag, and Jamil Sheriff to grow up fast. I also want to see coach Pido try using former Hope Christian HS star Janrey Garrido at the point. He was a spitfire in the Tiong Lian league, and I think he has the tools to be effective for UST. Oh well.
– I am loving the confidence of De La Salle's rookies — Jason Perkins and Robert Bolick in particular. If yesterday was no fluke, then I think Perkins might actually replace NorBEAR, AVO, or Yutien up front, while Bolick should be this season's Luigi Dela Paz, who seems like he won't play much this summer (or even season).
Another guy who stood out was sophomore Gabby Reyes, who used to be the King Junior Archer in Alabang during his Zobel days. He showcased his athleticism and range in yesterday's encounter, all of which were already part of his arsenal as far back as Season 73 (again, in his Zobel days). I think he just might get the playing time he needs this summer. This is what happens when someone like Joshua Webb finally uses up his eligibility. 
– I don't think NU will be a top-two team in the UAAP this season. Alfred Aroga, so far, doesn't seem to have the same fire as Emmanuel Mbe, and it will show in Season 76. Ray Parks will always be awesome, but the same issue of whether he has enough support or not will still crop up.
Troy Rosario had a great first outing, and I think he might be the better choice as the main frontline guy over Aroga. He just showed a lot more versatility yesterday. I also want to see more of former RP-Youth standout J-Jay Alejandro. This guy lit up the two FIBA Asia tournaments in which he played (2011 U16 and 2012 U18), and I think he will be the perfect complement to Parks on the wings.
– San Beda, despite the loss, is going to be tough to derail in the NCAA. Ola Adeogun underwhelmed yesterday, but he should still be a tremendous force for the Red Lions in their bid for a four-peat. The re-entry of the Semerad boys should also shore up the frontline along with Arthurr Dela Cruz and Kyle Pascual. The main challenge for new coach Boyet Fernandez is how he'll distribute the playing time. Also, Baser Amer with 11 assists?! WOW. This kid is maybe the best playmaker in all of college ball already – NOT the best scorer, but the best playmaker. – Rappler.com