The Philippine Volcanoes face top-ranked Japan in the A5N tomorrow. Expo Mejia gives us a lowdown of the battle.
MANILA, Philippines — An article published at the beginning of the month stating the Philippine Azkals were to play Brazil in a friendly football match had many local sports fans salivating. Wide open mouths changed to wry smiles as readers quickly realized sports writer Bob Guerrero had got them with a classic April Fool's Day piece.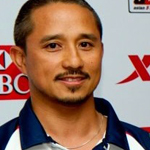 But the question lingered on in the imagination of many football fans. What if? This is the ultimate challenge serious people dream about, to compete against the very best. Only a select few ever get the opportunity in life. Tomorrow, the Philippine Volcanoes rugby team has their shot.
This is certainly no joke. The match in Fukuoka will mark a historic day for the Volcanoes. It will be their first in the HSBC A5N elite division and the first against Japan, the undisputed number one team in Asia. Both will continue their 2015 World Cup campaign along with Hong Kong, Korea and UAE. The four highest placed teams at this tournament will progress to the final qualification round next year.
Mismatch on paper 
Although not quite of David and Goliath proportions, this is still the classic mismatch on paper. Japan has never been beaten in A5N history. A winning margin of 50 points plus is not uncommon for the Cherry Blossoms. They play regularly against Samoa, Fiji, Tonga, USA and Canada. The entire squad is made up of full time pros.
Perhaps Japan national head coach Eddie Jones will use this as a 'warm-up' match ahead of a long national representative season. After all it's just Game 1 and it's only the Philippines. Think again. Jones is leaving no stone unturned in his ambitious quest to bring Japan to the top 10 of world rugby.
Of Japanese descent himself, Jones is an icon of world rugby. Growing up in Australia and playing at the elite level, he excelled even further in the coaching ranks. He famously took Australia to within a whisker of winning the World Cup in 2003 but 4 years later did one better as a member of the South African coaching staff.
He is renowned for his meticulous planning. In the rugby world he is accredited with taking 'analysis' to a different stratosphere. He is the master tactician with the fierce character. It's the Jones way or the highway so he hasn't always been everyone's favorite coach. But under his leadership the Cherry Blossoms are certainly flourishing.
Japan ready for ambush

Jones is fully aware that the Volcanoes have 7 pro players in the Japan as he keeps a close eye on the Top League. He knows that the remaining squad members are based in Australia, NZ or UK where they play a more physical game. Jones says this is rare in Asian rugby and he is ready for the ambush.
To that effect Jones has selected his strongest possible team. He wants an impressive first up performance as he changes the course of Japanese rugby. Jones has been demanding greater physicality, better skills and smarter decision making from his players. Training sessions at their most recent camp have been starting at 5:00am running through till late afternoon. The Volcanoes will be receiving no favors.
In the last game of their recent European Tour, the Cherry Blossoms defeated the French Barbarians. Jones feels they now have a strong base and are starting to acquire the physicality to match it with the best. He is also determined to play an attacking style of rugby utilizing the skills set of his powerful and dynamic squad.
In naming his team Jones has opted to blood some new talent. Mikami and Sau will debut for the Cherry Blossoms alongside some veterans of Japanese rugby. In stark contrast the Volcanoes 23-man squad contains 5 players in their first season and another 6 players in only their second. Austin Dacanay is the most capped player in the team having represented the Volcanoes 14 times. The Japanese pair of Onozawa (76 caps) and Ono (63 caps) have more caps than the entire Volcanoes run on team and substitutes.
Cherry Blossoms to rattle Volcanoes in the forwards 
Japan will certainly look to rattle the Volcanoes in the forwards. With a pack weight of 871kg compared to the Volcanoes' 835kg, the Cherry Blossoms will try to bash through the Volcanoes defense using their height and weight advantage.
The Japanese back row all stand at 188cm with each weighing over 100kg.  Both second rowers are 192cm and will look to dominate the lineout both in attack and defense. The Volcanoes back row of Hitch, Ward and Carroll won't be taking a backward step but the energy required to wrestle their bigger opponents could spell danger at the back end of the game.
In the backline, Jones has elected to keep the playmaking duo of Onasa and Ono together. Both have a good understanding of each others game as they are from the same club team. The pair will work hard to create some free space to unleash their wingers, the legendary Onozawa and the lightning fast captain Hirose.
Volcanoes to lean in backline 
The Volcanoes of course have their own firepower in the backline. With most playing in the same league as their counterparts, they will have nothing to fear so long as the Volcanoes can contain the rampaging Japanese forwards.
Price, Saunders and Olivier have been in excellent form. Coveney and Holgate have had little game time this year but both will have a massive impact in Fukuoka. Captain Michael Letts has enjoyed another good season in Japan and the team will rely heavily on his inspiration and leadership from fullback.
Jones is expecting some tired legs due to the game tempo they want to achieve as from the fatigue of the heavy training. Jones indicated he will finish with fresh legs by clearing the bench. This spells danger for the Volcanoes as the Japanese reserves amass 80 caps between them. Aside from Jake Letts, the rest of the Volcanoes bench share only 3 caps.
But Volcanoes head coach Jarred Hodges also has a few tricks up his sleeve. Similar to Jones, Hodges has played and coached at the elite levels of Australian rugby. He is certainly not intimidated by Jones or by the enormity of the task. The underdog status will suit him and the players perfectly.
An upset victory will be unlikely but in rugby, nothing beats passion and the determination to make the opposition fight for everything. You can count on plenty of that from the Volcanoes. Switch on your TV at 1pm tomorrow and watch the new kids on the block challenge the best in Asia. Celebrate another great achievement in Filipino sporting history. – Rappler.com
HSBC A5N Top League Round 1: #1 Japan vs. #5 Philippines
Kick-off 2:00pm (local time) Sanix Stadium – Fukuoka, Japan
Telecast: 1:00pm on Solar Sports Channel and ESPN Star Sports Channel
JAPAN CHERRY BLOSSOMS:
1. Masataka Mikami 2. Hiroki Yuhara 3. Hiroshi Yamashita 4. Hitoshi Ono 5. Shinya Makabe 6.  Takashi Kikutani 7. Michael Broadhurst 8. Ryu Koliniasi Holani 9. Atsushi Hiwasa 10. Kosei Ono 11. Hirotoki Onazawa 12. Harumichi Tatekawa 13. Male Sau 14. Toshiaki Hirose (c) 15. Ayumu Goromaru. Reserves: 16. Yusuke Aoki 17. Takuma Asahara 18. Kensuke Hatakeyama 19. Shoji Ito 20. Justin Ives 21. Hendrik Tui 22. Yu Tamura 23. Kenki Fukuoka.
Coach – Eddie Jones.
PHILIPPINE VOLCANOES:
1. Austin Dacanay 2. Michael Duhig 3. Matt Bellenie 4. Steve Howorth 5. Jaime Urquijo 6. Terry Carroll 7. Chris Hitch 8. Jake Ward 9. James Price 10. Gaz Holgate 11. Joe Matthews 12. Justin Coveney 13. Matt Saunders 14. Patrice Olivier 15. Michael Letts (c). Rerserves:16. David Robinson-Polkey 17. Graeme Hagan 18. JC Bautista 19. David Feeney 20. Darran Seeto 21. Jake Letts 22. Alex Aronson 23. Jeff Gregson.
Coach – Jarred Hodges.