Rappler previews the girls volleyball semifinals pairing between Region X and Region VII and NCR vs Calabarzon.
DUMAGUETE CITY, Philippines — Two exciting Final Four pairings fire off tomorrow at the Foundation University Gym. Rappler previews the defensive battle between Northern Mindanao and Centeral Visayas and the expected exchange of fireworks in the NCR-Calabarzon tie. 
9:30am – Northern Mindanao vs Central Visayas
If you could sum up this matchup, it would be blocking versus floor defense.
Led by go-to girl Alyssa Layug, Northern Mindanao has the tallest line-up this year. The team has other options on offense like middle hitter April Romero and outside hitters Sheeka Espinosa and Laizah Bendong. The team can really use their height for blocking, which is why they were able to score 13 blocks in their quarters win over Davao.
Central Visayas is loaded with hitters. They are also unpredictable because there are a lot of times that they shuffle their positions. Because they employ a 6-2 offense, Rica Jane Rivera and skipper Carmel Saga play the utility and setter positions for the team. Aside from the two, they have two solid outside hitters in Janelle Cabahug and Cherry Rondina and two good and tall middle hitters in Mary Pacres and Dyan Darantinao.
Central Visayas has a good floor defense like what they showed against Western Visayas. The crucial part is their receiving, as it is quite shaky, but since Northern Mindanao doesn't really serve as well as the other teams, they can take advantage of this to create some plays.
Since Central Visayas has a much smaller team, Northern Mindanao can take advantage of their blocking. Through their blocking, they can deflect balls and receive the spikes easily so that they can be able to set well to their loaded spikers. 
Since each team has their own type of defensive forte, expect this game to be long and to have a lot of rallies.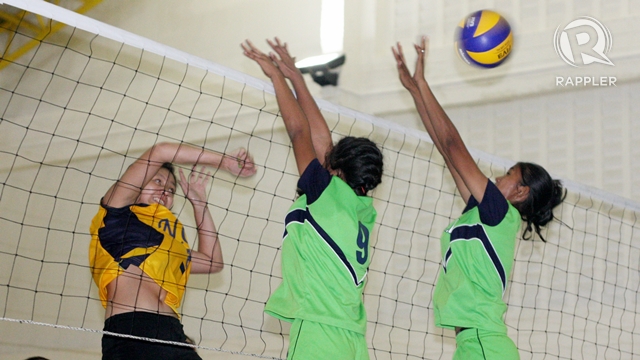 10:30am – NCR vs CALABARZON
This matchup seems to be a good one to watch especially for those fans who love power hitting. Both teams have that kind of players. Aside from them, both teams possess star players.
For one, NCR has both reigning MVP Ana Gopico and Shakey's Girls V-League MVP Des Cheng aside from high school stars Kim Dy, Justine Dorog, Monica Ortiz, Nika Ong, Kaka Sandoval and Shaya Adorador. Likewise, CALABARZON has a lot of tall but very good players as well in Marge Galanza, Yen Ilsutre, Audrey Paran, Anne Necessito and Janel Maraguinot. 
NCR still has problems in their receiving but they actually do well in floor defense.
CALABARZON, meanwhile, has a solid core. Aside from having three good setters, their team also has a lot of good hitters. The issue with them is floor defense. Sometimes, they just really love spiking that they forget to defend the floor. 
On the other hand, NCR also has good attacking but has shaky receiving at times. Their offense revolves around Cheng, Gopico and Dy, who actually spike in the middle so if they won't have good receiving, it will be hard to set up these players. But if they will be able to receive and defend better, they can win against CALABARZON because in any rotation there will always be a Gopico, Cheng or Dy at the front.
CALABARZON is very good in serving, so if NCR will have their usual receiving problems like in the past games, CALABARZON has a good chance of winning this game.
However, if NCR will play really well, they can also win this one but it will still be hotly-contested as both teams really have good players. CALABARZON, though, has a tendency to rely on powerful hitter Marge Galanza so if CALABARZON does that, NCR can take advantage with their good blocking and good digging. 
This match will probably have a lot of quality plays. And some people even say that this match is championship-worthy already. – Rappler.com