Manny Pacquiao and Brandon Rios will face off at the CotaiArena at the Venetian Macao Resort Hotel on November 24, ESPN reports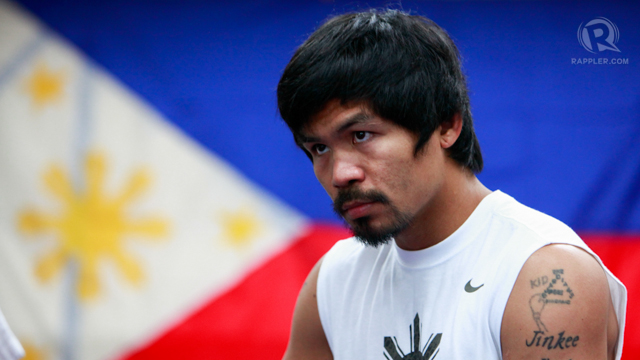 MANILA, Philippines – Manny Pacquiao will face Brandon Rios in the gambling mecca of Macau, reports said Monday, May 6 (Tuesday, May 7 in Manila).
Pacquiao and Rios will face off at the CotaiArena at the Venetian Macau Resort Hotel on November 24, ESPN reports, quoting Pacquiao adviser Michael Koncz.
"The fighters have both agreed to terms and the contracts are being finalized, according to Koncz and Top Rank promoter Bob Arum," ESPN reported. "Pacquiao agreed to terms last week and Koncz, who is traveling to the Philippines to see him, said he is bringing him the paperwork. Arum said Rios agreed to terms on Monday morning."
They will fight at the welterweight limit of 147 pounds.
Arum told ESPN's Dan Rafael: "People want to see a real fight and that is what you get with Rios. We're building a business in Macau and China and these are the kinds of fights — real action fights — that they want to see."
Freddie Roach also told the sports news outlet that Pacquiao, who is trying to come back from a stinging loss in the hands of rival Juan Manuel Marquez in December, will train for 6 weeks in the Philippines, and 2 weeks in Macau.
"Manny is definitely going to get his mojo back with this fight," the coach told ESPN.
Rios, Koncz said, was chosen after Marquez and Timothy Bradley turned down offers to fight with the Filipino boxer. Marquez and Bradley chose to fight each other instead.
"After Marquez and Bradley turned down our offers, Rios was next in line and he took the fight… Manny is happy to get back in the ring, so he's looking forward to this but right now his major focus is on politics," he said in the interview. They did not disclose the terms of the deals Pacquiao and Rios agreed to.
The fight will be in the morning, so that it can be broadcast in the evening in the United States.
Pacquiao, 34, was until recently regarded by many as the best pound-for-pound boxer, holding an unprecedented eight world titles in different weight divisions.
But he lost his World Boxing Organization welterweight crown in June last year in a controversial points decision to Bradley, then suffered a knockout defeat to Marquez.
The Filipino boxing legend is running for re-election as Sarangani representative. – Rappler.com