World number one Novak Djokovic believes he's peaking at the right time at Wimbledon.
LONDON, United Kingdom — Novak Djokovic believes he is peaking at just the right time as the world number one prepares to step up his bid for a second Wimbledon title.
Djokovic took the express route into the fourth round on Saturday, June 29 as the world number one thrashed French 28th seed Jeremy Chardy 6-3, 6-2, 6-2.
The Serb, who faces German 13th seed Tommy Haas for a place in the quarter-finals, played a flawless first two sets without a single unforced error, and eventually hit 38 winners and served eight aces in one hour and 26 minutes of total dominance on Centre Court.
While several of Djokovic's title rivals, including Rafael Nadal and Roger Federer, have fallen foul of the shock defeats and injury withdrawals that have rocked Wimbledon, the 26-year-old has progressed serenely into the last 16 without dropping a set.
Getting better and better
"My results are getting better and better, so this is very encouraging going into the second week," Djokovic said.
"Now every match I'm going to play, every opponent I'm going to face is going to be more difficult. I'm going to expect a tough challenges in front of me. I'm ready for it.
"It was a fantastic match (against Chardy). I felt great from the start till the end. I had that super focus.
"I saw the stats that I won 100 percent of first serves. That was incredible for me.
Read: Djokovic, Murray on course for final Wimbledon showdown
"I'm striking the ball really well. Hopefully I can maintain that rhythm for the next opponent."
While Florian Mayer, Bobby Reynolds and Chardy have been contemptuously swatted aside by Djokovic, he acknowledges Haas is likely to provide far more resistence.
Renewed verve
At 35, Haas is the oldest player left in the men's draw, but he has been playing with renewed verve over the last 18 months, climbing back into the top 15 following a series of injuries.
Haas was also a Wimbledon semi-finalist in 2009 and Djokovic has no intention of underestimating the German.
"Against Tommy Haas, it's going to be a big challenge for both of us," Djokovic said.
"He loves playing on grass and beat Roger (Federer) in the final of Halle last year.
"He doesn't look like a 36-year-old for sure. He's full of confidence on the court and he's been playing very close to the best tennis of his life.
"There's no clear favourite in that match. I need to try to repeat this performance. If I do I think I have a good chance."
Djokovic won their last meeting, in the French Open quarter-finals in straight sets earlier this month, but he admits Haas pushed him hard enough to suggest he could do more damage on grass.
"You wouldn't expect him to play his best at the French Open because clay is not his surface, but he did," Djokovic said.
Perfect for grass
"He's proven everybody wrong because he's so fit and he moves around the court really well. He's perfect for grass."
If Djokovic does progress to the latter stages of the tournament, he will be seeing more of former AC Milan and Ukraine footballer Andriy Shevchenko, who has become a good friend of the Serb.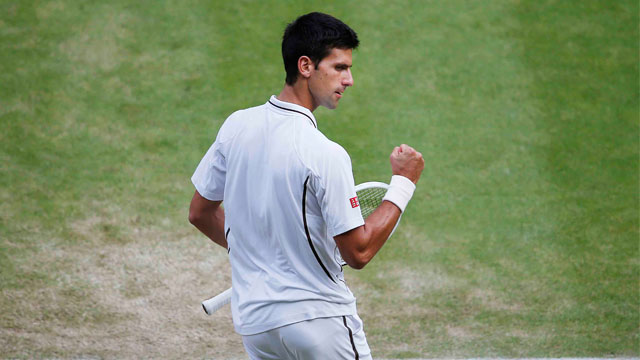 Read: Djokovic not slowing down in run-up to Wimbledon finals
The pair met at the ATP World Tour Finals in London and have remained in contact, with Shevchenko, cheering on Djokovic along with his son in the players' box during the last two rounds at Wimbledon.
"We met a few years ago at the World Tour Finals. He wanted to take a picture with me and his kids. That's how we got to know each other. We stayed in touch since and became friends," Djokovic said.
"I have lot of respect for him and for what he's done with his career. I'm really glad he likes tennis." – Rappler.com