The Ateneo Blue Eagles shaved their heads bald as a sign of unity. Their star guard, Kiefer Ravena, though, is still injured.
MANILA, Philippines — Mired in a 0-3 hole to start their bid for a 6th straight championship, the Ateneo de Manila University Blue Eagles did something different: shave their heads bald.
Team manager Paolo Trillo confirmed to Rappler the move, saying that the 5-peat champions did it to show unity.
"The players decided to do it on their own," Trillo said in a phone interview. "It's their way of showing solidarity. We'd rather have a better standing at this point. But the goal is to just stay focused."
(Photos of the "Bald Eagles" here.)
Trillo maintains that the Eagles' goal is to make the Final Four, saying that it's still too early in the season to count the Katipunan-based squad out. 
"We have 11 games to go," he added. "The spirit is still upbeat and we will go out and play every game with our best."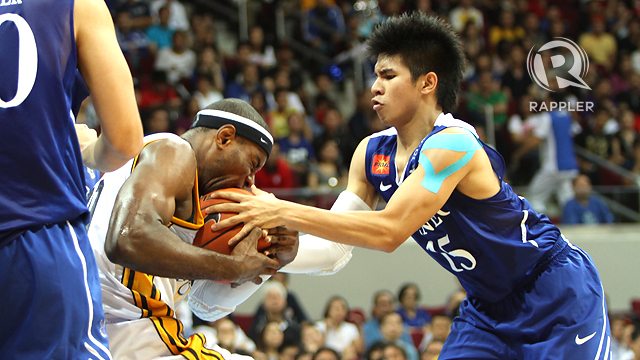 Ravena still doubtful
Two weeks after the season opened, though, star guard Kiefer Ravena's return to action isn't set in stone yet.
Ravena, who severely sprained his ankle before the tournament began, has missed the last two Ateneo losses after playing just 8 minutes in their opening-weekend defeat to National University.
"He's still listed as day-to-day," Trillo said. "It's difficult for us if he will play or not."
Trillo added that even if Ravena is ready to suit up for the Eagles, the team will not field him in if he isn't 100% healthy yet.
"He can actually play, but it's a question of whether he's 100% or not," he shared. "If he's not, we run the risk of his injury getting worse."
Ateneo takes on Adamson University on Sunday, July 14, at the Mall of Asia Arena. – Rappler.com