Kiefer Ravena is raring to return to action and prove his doubters wrong.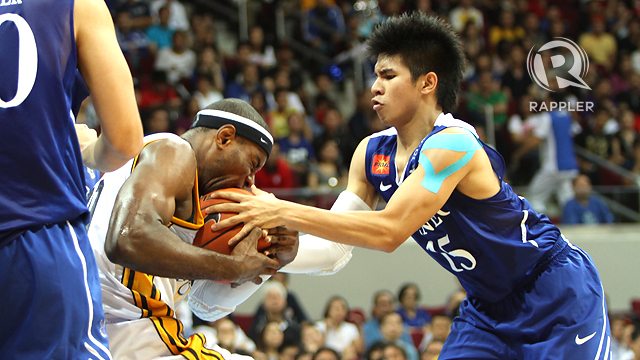 MANILA, Philippines — Ateneo de Manila University is off to its worst start in almost two decades and a lot of basketball fans and observers have counted the Blue Eagles out of the title picture.
Never mind that they've been champions the past 5 seasons. Never mind they have yet to flash their full roster. Never mind they have competed in most of their losses only to fizzle down the stretch.
For many, the Blue and White has seen its chances of securing a 6-peat vanish into thin air.
Not for Kiefer Ravena.
"People are bashing us, counting us out. That's the way of life," he told Rappler. "It keeps us motivated. It keeps us grounded. Maraming gustong talunin at matalo kami."
"We have to focus on proving them wrong."
'Complete tear of ligament'
It's been more than a month since we last saw Ravena flaunt his devastating form. Against archrival De La Salle University, the wunderkind sprayed 31 points on the Green Archers, scoring off a variety of moves that signaled he could be the top MVP contender this year.
A few days before Season 76 began, though, tragedy struck.
"It was really a bad injury, bad timing," Ravena said of his Grade 3 ankle sprain, an injury that doctors say usually take 4-6 weeks to heal.
According to the website of the American Academy of Ortophaedic Surgeons, a Grade 3 sprain is a complete tear of the ligament, a severe injury that not just causes significant swelling and tenderness, but also instability.
"This is my first time to have this kind of injury," Ravena shared. "And I don't even think of having it the second time."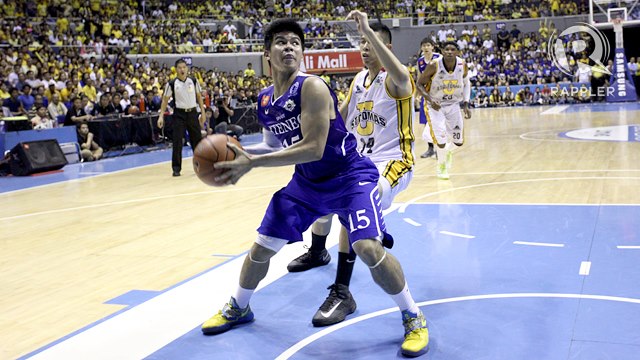 Not 100% yet
Observe Ravena in practice and you will conclude that he isn't 100% yet. He glides with that tinge of carefulness, tries not to put too much weight on his right ankle and when he jumps, the lift that we saw Ravena exhibited in his slam over Karim Abdul isn't there.
"Actually, hindi ko alam kung ilang percent na akong ready," he admitted. "But the people around me has done a great job of maintaining my state. I'm just trying to improve everyday."
Ravena says he undergoes therapy everyday and after practice, soaks his right leg into a bucket of ice to soothe the pain. 
"I focus on the things I need to do to get back," he said. "I want to return as soon as possible."
'Masakit'
With the Eagles deep into a 0-3 hole, Ravena has found it hard to stay strapped onto the sidelines, especially when the team is fumbling in the endgame and missing key opportunities to score victories. 
"Masakit," he shared. "I'm a big part of the team and I've always wanted to help them win."
And while he believes that teammates like Ryan Buenafe and Chris Newsome have done a splendid job while he's out, he is raring to join the team on court to make things happen, especially in crunch time.
After a sloppy loss to National University on opening-weekend, Ateneo has zoomed to quick starts in each of its last two games, burying both Far Eastern University and De La Salle University in early deficits.
But the Eagles ran out of steam both times, with Buenafe and Newsome each putting on brilliant performances only to lack the supporting cast to deliver the finishing kick.
"When it comes to the endgame, that's my biggest role in the team," Ravena stressed. "That's what I miss the most."
Unfazed
With Ateneo facing the best rebounding team in the UAAP next, will the King Eagle finally get back into action?
"We'll see, we'll see," he said. "Hopefully, we can get a W this Sunday."
One thing's for sure: Ravena will not suit up unless he's 100% ready. And by 100%, we mean he's back to the deadly force of nature who has terrorized foes in the UAAP in the last 2 years.
"Coach (Bo Perasol) told me to just get better day by day," he said. "He's a professional and he wants the best for me. He can let me play if he wants to, but he chooses not to because he thinks of my future. I'm very thankful for having a coach like that."
The Eagles are in a very unfamiliar place. They've never started a season this bad since 1997 and with pieces not complete yet, their bid for a rare 6-peat is in peril. 
Ravena is unfazed.
"A lot of things can still happen," he said. "It's still a long season. I hope the Ateneo community never gets tired of supporting us. They won't be disappointed if they take time to watch our games."
"We are maturing. We are learning our lessons."
The hair he's grown for what he calls '6, 000 years' is almost gone, his health is under scrutiny this close for the first time in his life and his team is sliding like the end is nowhere in sight. 
The future looks bleak but Ravena is not about to give up. And if you're a fan or supporter, he has one word for you: Believe. – Rappler.com