Tournament favorite Army takes on the only team that beat them -- Cagayan -- in the Super Liga semis.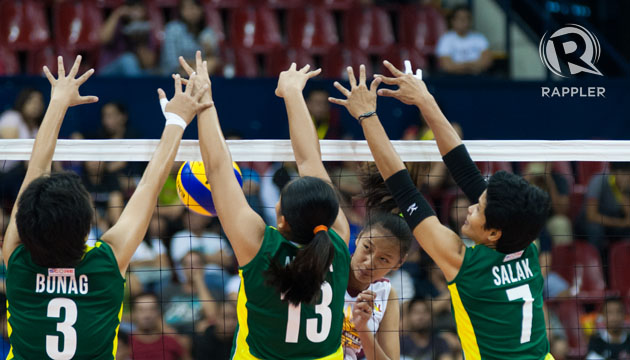 MANILA, Philippines — In the first match of the Philippine Super Liga semifinals on Friday, July 26, TMS-Army will face the Cagayan Valley Lady Rising Suns, the only team able to beat them in the elimination round in a thrilling 5-setter, 25-23, 25-27, 26-24, 14-25, 15-12.
Both squads lived up to the hype as they were considered the teams to beat before the season began. Packed with a lot of veteran players (Army) and good floor defenders (Cagayan), the last game of the opening day was expected to go down to the wire. And boy, they did not disappoint.
Lady Rising Suns: Patient role players
As per FIVB rules, there can only be one libero inside the court. But with the way open spiker Bang Pineda played during that game, Jheck Dionela was not alone in defending Cagayan's side of the court. Diving, rolling, digging and receiving like a true blue Lady Falcon, Pineda frustrated Army's spikers right to the very end.
Role players Jennifer Manzano and Joy Cases scored 22 and 16 points, respectively, and sealed the deal for their team. They may not be popular with the fans but with their combined efforts, they outscored the Lady Troopers' star-studded line-up.
Lady Troopers: Veterans outsmarted
Creating their own version of Double B, Mary Jean Balse and Joanne Bunag tried to dispose Cagayan by throwing in together a total of 37 points but got exhausted in the end due to the opponent's pesky defense.
With an intact team composed of the Carolinos, Tina Salak, Ers Iratay, Dahlia Cruz, Balse, Bunag and Jacq Alarca, expectations were sky-high for TMS-Army. Pundits were straightforward in saying that the young team of Cagayan outlasted and outsmarted the veterans to get win number one solely because of that — they were younger, allowing them to last longer in grueling games like this.
Now, a rematch has been set up at a larger arena and the pressure is on. Will it be a repeat of the defeat? Or will it be a sweet story of an avenged loss? A tight race to the Finals has never been this close.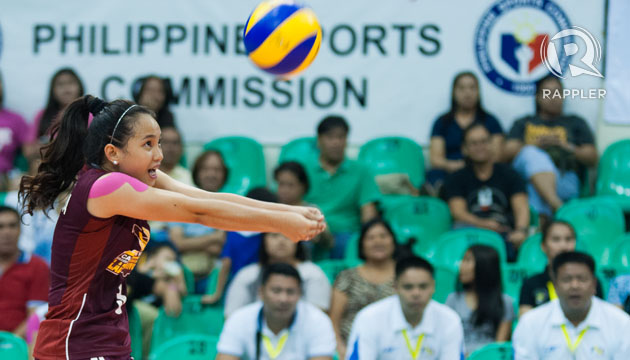 For Cagayan to get a Finals berth
Pineda once again needs to do an all-around job on both offense and defense. Her powerful attacks and ninja-like moves on the defensive end could spell victory for this team.
Take advantage of the rotation wherein Wendy Semana is in the front line while secondary playmaker Sarah Espelita takes care of the setting job. Semana is just an amazing setter and an even more amazing attacker. The latter skill is very much needed for an additional firepower.
If they get a steady performance from the rest of the team, they are definitely capabale of winning this match up again.
Keys to win for Philippine Army
Use their biggest and most obvious advantage: height! Not to disrespect the Rising Suns but they look small next to the towering Lady Troopers. If they can utilize their blocking, they can end this as quick as possible.
Main libero Nunag needs to step up big time. She will go up against Dionela who is currently first in receiving and second in digging while she is lagging way behind by being ranked 4th and 10th.
Setter Tina Salak should create plays that is not easy to read for Cagayan's defenders. She has a tendency to overuse her open hitters. Good thing Bunag and Carolino deliver because if they don't, they would be in big trouble.
Prediction
This is tough. Both teams have very different strengths and weaknesses. I'd say that this one is a possible 5-set match again going in favor of the Philippine Army only because they are the more experienced team. – Rappler.com