Enzo Flojo looks at UAAP teams' performance early in the 2nd round.
MANILA, Philippines — Maring is gone and Filipinos are recovering from the damage brought by the seemingly never-ending rains that battered us for almost a week. Before the UAAP plunges back into action on Saturday, August 24, let us reflect on how teams have performed in the second round so far:
UP: Will coaching change finally bring that W?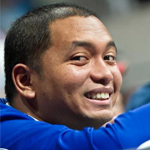 The Maroons are still winless, and things aren't exactly looking to improve moving forward DESPITE (or because of) the controversial change in coaching. I am happy for Sam Marata and Kyles Lao, though. Marata is getting the shots he always wanted when he was with DLSU, and though he's never going to be the league's best scorer, at least the Maroons have a post-Mike Silungan go-to-guy.
Lao, however, is another story. When I first saw this kid play for Xavier in the Milo SBP several years ago, I already sensed something special about him. His talent definitely shone through in helping the Golden Stallions perform well in the last few Tiong Lian tournaments and in being a stalwart of the the Energen Pilipinas Youth Team. So far, he has been a fearless and peerless neophyte contributor for the Maroons, and, with just 6 games to go, I have no doubt we already have a runaway Rookie of the Year winner.
UE: This 2-man show cannot possibly be sustainable, right?
Charles Mammie and Roi Sumang are among the 5 best players in the league, at least in terms of their respective efficiency ratings. Mammie's EFF is 40.1, while Sumang carries a 37.6 EFF. As for the rest of the team? The next-highest EFF is 20.6, which belongs to Ralf Olivares. That's good enough for #34 in the league. Nobody else carries an EFF that's 20 or higher.
On one hand, that can be a good thing because it reflects the balance that coach Boysie Zamar has in his roster, but the flipside is this — UE, at its core, is really just a 2-man machine. Mammie is definitely a beast on the boards and has become a serviceable inside operator, while Sumang is, at least for me, the best all-around PG in all of local collegiate hoops. I expect coach Zamar will ride this dynamic duo as far as they can carry the Warriors, but exactly how far is FAR? Are they up for a Final Four re-entry? Three more wins and I think they're in.
Adamson: Yeah, they're done.
Anything can happen, of course, and the Falcons SHOULD have at least one more win since they haven't battled UP in the second round yet. All things considered, however, Adamson's first 2 losses may have effectively put them way behind the other Final Four contenders. The San Marcelino boys are sitting on a 3-win, 6-loss card, and, considering how tight the race is this season, they cannot afford another defeat. Now, can they sweep their last five games on the way to barging into the postseason? They still have, aside from the aforementioned Maroons, Ateneo, FEU, UE, and UST. Yeah, I don't think so. I am, however, loving the numbers of Rodney Brondial. He, NOT Ingrid Sewa, is leading this squad in rebounds and blocks. Man, this guy, if he bulks up, might be a Pingris-in-the-making. Watch out!
FEU: Remember the 2004 Ateneo team?
Remember when LA Tenorio led the 2004 Blue Eagles, who lost Larry Fonacier in the very first game of the season, to a pristine 7-0 slate after the first round of Season 67? Everyone was practically shell-shocked. And then they went 3-4 in the second round, lost the twice-to-beat edge to DLSU, and were eliminated in the Final Four. This might not exactly happen to FEU this season, but something similar might be in the stars.
They are currently 0-2 in the second round, RR Garcia was suspended for one game, and, forgive me if I cannot forget it, Terrence Romeo's "waving off" of Garcia in the NU game proves that the cracks are beginning to show.
This will be the true test of coach Nash Racela's guidance and of the team's real character. How will they respond to these tribulations? They can rebound magnificently and preserve their twice-to-beat advantage, or they can continue reeling all the way to another late-season collapse (remember last year, folks?).
DLSU: Loving the Archer frontline!
Jason Perkins, Arnold Van Opstal, Norbert Torres, and, to a certain extent, Jeron Teng comprise what, at least for me, is the best frontline in the UAAP. They have a combined EFF of 114.3, which is the highest for any 4-man UAAP frontline (unless my math skills betray me). Of those four guys, the two who have really impressed me are Perkins and AVO. Perkins has been awesome, of course. He is norming 11.0ppg and 8.4rpg while shooting 48.7% from the field and 36.4% from deep. He is big enough to play 5 against smaller teams while also mobile enough to play 3 against bigger opponents. In short, he is the worst match-up nightmare since Ray Parks entered the UAAP a couple of seasons ago.
As good as Perkins has been, though, for me the most important player for La Salle has been AVO. From being a 6'8″ laughingstock and being in danger of labeled as Ferdinand 2.0, AVO has transformed into a bona fide inside force. He's not a super double-double or shot-blocking machine, but there has been noticeable improvement in his footwork, his positioning, and his finishing around the basket. I would go so far as to say that, if he plays his cards right, he should be a great PBA center and perhaps even a solid choice for future iterations of the Gilas Pilipinas national team.
NU: Do they have the league's best playmaker?
That's not Ray Parks, of course, but, rather, Gelo Alolino. Alolino has the fifth best EFF rating among all PGs in the UAAP (the other four are Roi Sumang, RR Garcia, Juami Tiongson, and Ed Daquioag), though he certainly isn't the best scorer among the lot. He does, however, lead the league in assists and has the best turnover ratio among the 5 (he edges Sumang slightly — 2.13 to 2.08). That's enough for me to label him as the league's current best playmaker. I also think that without him the Bulldogs wouldn't be in second place. Yes, this is despite the all-around awesomeness of Ray Parks and the solid play of Emmanuel Mbe. If Alolino weren't around, NU would be almost like UE — a 2-man team. Because of Alolino's great, albeit unheralded, play, though, coach Eric Altamirano's Bulldogs have their best chance not just at a twice-to-beat edge, but even at the UAAP title.
UST: All that promise, flooded away?
Last year's losing finalists started the season with Jeric Fortuna graduating. Midway through the first round, they lost Jeric Teng and now, Aljon Mariano is hobbled by an ankle injury. Sure, Ed Daquioag has had some shining moments, but they have been too few and far between to compensate for all the things the Tigers are lacking.
They're also on a two-game slide after the Ateneo loss to close the first round and the UE defeat to open the second. They still have a UP game to look forward to, but before they even get a shot at the Diliman quintet, they have to go through NU, Adamson, and FEU. If they don't win at least one of those games, then that might be it for a season that started with so much promise.
For UST to get back on its feet, I am picking Tata Bautista, Kim Lo, and Daquioag as the critical factors. Karim Abdul, Kevin Ferrer and, eventually, Teng and Mariano will get their numbers, but Bautista, Lo, and Daquioag have to really bring a lot to the table if the Black and Gold are to get another clean shot at the UAAP crown.
Ateneo: Will the real Kiefer please stand up?
In Kiefer Ravena's first two Season 76 games, he scored a total of 6 points, grabbed just 3 rebounds, had 0 assists, shot 2/11 from the floor and turned the ball over 5 times. In the four games he's played since then, the Phenom has normed 13.3ppg, 6.3rpg, 3.0apg, 1.5spg, and just 2.0topg. Though it's clear he still hasn't regained 100% of his explosiveness, the current iteration of Ravena should be enough to strike fear in the hearts of Ateneo's foes once again, especially after his 14-point, 14-rebound, 5-assist, and 3-steal outburst against UP. I doubt if even Kiefer can register those numbers on a regular basis, but anything that approximates them can really boost Ateneo's slimmer-than-usual chances of making the Final Four.
The Eagles' next 6 games are by no means going to be easy, of course, but as long as Kiefer can continue healing up, then the Katipunan five might just pull the rug from the frontrunners and keep their Anim-o dream intact. – Rappler.com
Enzo Flojo is one of the closest followers of the Philippine National Basketball Team. He is a self-proclaimed Asian Basketball hoop nut, and he doubts if anyone knows as much as he does about the best players in this corner of the world. He maintains a nationally-recognized basketball blog (HoopNut.com), and he hopes you can pester him on Twitter — @hoopnut.