Losers of their last games, Adamson and UST attempt to get back on track.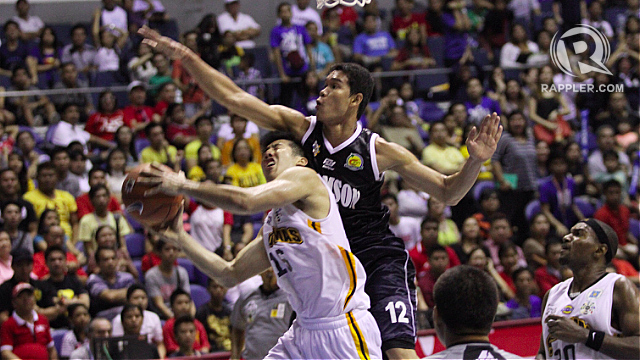 MANILA, Philippines — Second round action in the UAAP Season 76 men's basketball tournament continues Wednesday, August 28 at the Smart Araneta Coliseum as two teams in dangerous waters — Adamson University and University of Santo Tomas — fight for survival.
First round meeting: UST (67) – (62) Adamson
 Jeric Teng –  15 points, 6 rebounds
 READ: UST comes from behind to beat Adamson
Why Adamson will win: This is the ultimate chance for the Soaring Falcons to end their losing skid since UST's star guard Jeric Teng is sidelined once again. Though falling short, Ingrid Sewa and Jericho Cruz's newfound chemistry in their big run against Ateneo is expected to give the Falcons a more fluid inside-outside game from the get go. Forward Jansen Rios is coming off a respectable showing the last time out and he hopes to carry that to this game.
Why UST will win: There's no wingman on the Adamson side good enough to stop former UAAP juniors MVP Kevin Ferrer. His mixture of speed, length, and versatility, which let him topscore against the Falcons in their first round meeting, will be a major problem again for the San Marcelino 5. The quicker and more athletic Karim Abdul will beat Sewa from around the 5 to 10-foot range. Finally, Ed Daquioag WILL hit those free throws.
Key Match-up:
Rodney Brondial (9.3 PPG, 10.1 RPG, 1.6 BPG) vs Aljon Mariano (11.2 PPG, 6.7 RPG, 1.8 APG)
Two of the league's most hardworking forwards slug it out for their respective squads. However, both big men are in a decline in the second round. Mariano averaged just 6.5 points in their previous two losses, shooting 37.5%. Brondial meanwhile just collared 8 rebounds in his last two games. Their effectiveness today determines how far their teams will go.
X-Factors:
Adamson: Jansen Rios
Starting forward Jansen Rios showed that he can explode, firing 14 points, 4 rebounds, 4 assists, and 2 steals last Sunday. He was the lone bright spot for the Soaring Falcons prior to their comeback. If he can consistently perform this way, he gives Adamson a new offensive option.
UST: Clark Bautista
With Teng injured anew, Bautista will start at the shooting guard spot and is expected to find more looks at the basket. He shot 3-of-14 in UST's loss to NU so he must really show his full arsenal today; otherwise, it would be a short day again for the Espana crew.
What this game means: UST's chance for a Final Four slot is pretty much alive, but they have to get something going. Winning gives them a much wider opening. Adamson, though very far from the top, still has a shot at the playoffs and as this season's hosts, they're out there to salvage some pride. – Rappler.com