Bo Perasol rises above surgery to lead Ateneo to victory.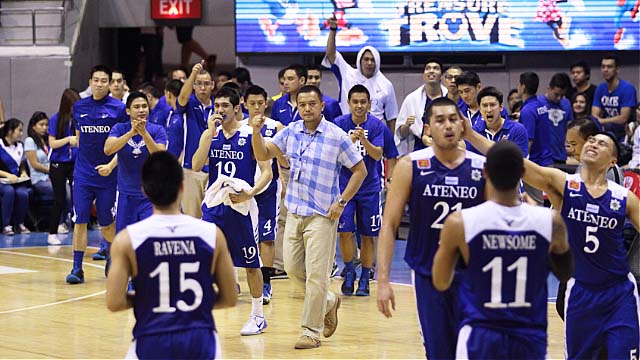 MANILA, Philippines – In Ateneo de Manila University's fifth straight win at the expense of Far Eastern University Tamaraws on Wednesday, Juami Tiongson came out big as he top-scored in the game with 20 points.
After struggling in the first round, the Blue Eagles displayed their championship caliber once more as Tiongson spearheaded the Katipunan five's offense from the inside and out to occupy shared third in the standings with De La Salle at 6-4.
But the backcourt dynamo played down his performance and dedicated the win to Ateneo head coach Bo Perasol who has recently undergone a surgery.
Internal bleeding
"Coach Bo's coaching after a minor surgery. He should be resting right now. There are lots of reasons why we want to win this game but the real reason to win today is for coach Bo," said the 5-foot-10 team captain.
The Blue Eagles turned what was expected to be a down-the-wire battle to a blowout as they made the Tamaraws bite the dust early and never looked back. Despite coming off a recent operation, Perasol was with the Ateneo bench from the tip-off until the final buzzer.
"I had some kidney stones removed so there was a time after the surgery that I had to rest but I have to be with them. When I was called today there was some internal bleeding," Perasol admitted. "I can't sit straight and can't sit right away everytime I make a timeout because it's kind of hurting but it's nothing serious. It's just that we have to do whatever it takes and I am really relieved that we can, if we really think that we can."
With the race for the Final Four getting tougher as the season approaches homestretch, the Ateneo mentor is not fazed facing a tough De La Salle test on weekend.
"Ang problema lang minsan ay nagdadalawang isip kami because of our previous losses but I believe that the kind of winning mentality Ateneo had in the previous years are coming into play now. – Rappler.com