Ginebra battles Barako Bull in the PBA Governor's Cup.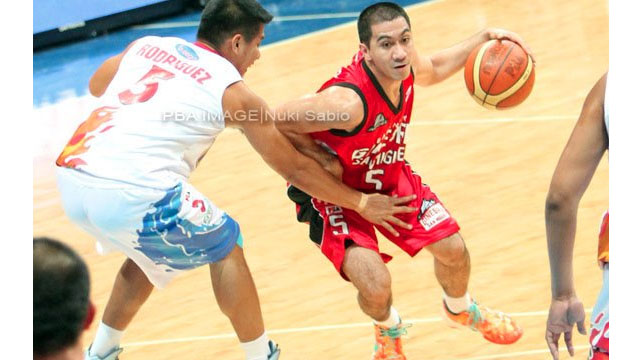 Barako Bull Energy Cola (2-1) vs Barangay Ginebra San Miguel Kings (1-1)
Why Barako Bull will win: Their outside shooting will be on-target again tonight. The Energy swished 9 triples against Air21 in their previous game, and it showed that as long as Rajko Toroman's guys can make those long range bombs, they can win. Oh, and I expect Mick Pennisi to produce another quality defensive effort. The former national team player didn't score against Air21, but he grabbed 10 rebounds to hold fort in the low block.
Why Ginebra will win: LA Tenorio, Japeth Aguilar, Mark Caguioa, and Dior Lowhorn all played well against Meralco, and there are no signs their play will dip here against Barako. Tenorio probably won't score like the way he did versus the Bolts, but his playmaking has really blossomed in this conference. Expect him to continue finding Lowhorn and Aguilar in their sweet spots for many easy baskets.
Key Match-ups:
Emman Monfort (14.3ppg, 5.3apg, 3.7rpg, 47.4 3pt%, 48.3 FG%) vs LA Tenorio (21.5ppg, 8.5apg, 5.5rpg, 62.5 3pt%, 60.9 FG%)
As well as Monfort has been shooting the basketball, his numbers still pale in comparison to Tenorio's. The Lieutenant went to town against Meralco, and he will be just as dangerous here. He will have a tough time trying to shadow the speedier Monfort, but Tenorio should still be the better PG when the dust settles.
X-Factor:
Ronjay Buenafe
Buenafe connected on 2 triples in the Bolts' last game on his way to 18 points. He didn't do much else, so he will need to, once again, be accurate tonight lest Meralco fall behind early. Buenafe's shooting is such an integral part of the Toroman scheme, and without it, the Energy will be playing for scraps.
What this game means: Both squads are coming off great wins, and it will be really interesting to see if they can build on those victories with another one here. It will be even more interesting for Barako Bull, which has really lost a lot of depth in its roster after some controversial transactions. The Kings, meanwhile, will be looking to catch the leaders should they earn a W here. – Rappler.com