NU is favored to beat a UE team fighting without Charles Mammie.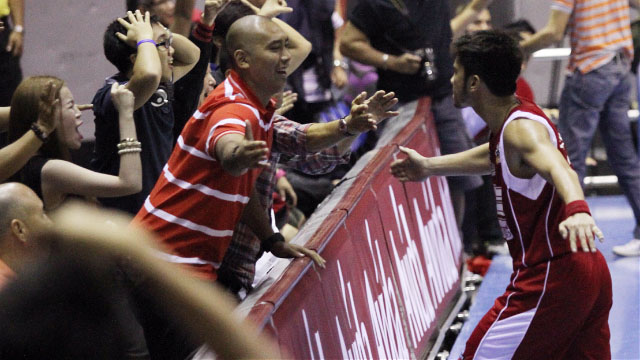 MANILA, Philippines — Second round action in the UAAP Season 76 men's basketball tournament continues Saturday, August 31 at the Smart Araneta Coliseum as contenders National University and University of the East slug it out for better position in the team standings.
 NU Bulldogs (7-3) vs UE Red Warriors (5-4)
First round meeting: UE (71) – (67) NU
Roi Sumang – 19 points, 6 rebounds
Charles Mammie – 15 points, 20 rebounds
READ: Sumang strikes dagger as UE bombs NU
Why NU will win: The Bulldogs have shown how unstoppable they are in the second round. Stopper Robin Rono exploded for 19 points against UST. Forwards Glenn Khobuntin and Denice Villamor chipped in 27 points and 12 rebounds while Gelo Alolino has been averaging 7.5 points, 5 rebounds and 4.9 assists. AND they still got Ray Parks and Jean Mbe. Now that's one dangerous NU squad.
Why UE will win: The Red Warriors showed their fighting spirit though falling short against FEU. That's the same heart they will try to bring out as they try to recover from a setback. Roi Sumang and Ralf Olivares—who combined for 46 points vs FEU—will give NU's backcourt several problems. Big men Adi Santos, John Noble, and Chris Javier MUST exert more effort to buck Charles Mammie's absence.
Key Match-up:
Robin Rono (5.1 PPG, 2.1 RPG) vs Ralf Olivares (11 PPG, 4.2 RPG)
Against UST, Rono provided the spark off the bench with 5 triples. Olivares, meanwhile, fired 21 points in their defeat against FEU. The two shooting guards are both looking to follow their breakout performances with another big one tonight. Rono will be there in case Parks misses his attempts early, while Olivares will carry much of the scoring load for UE with the absence of Lordy Casajeros.
X-Factors:
NU: Denice Villamor
Even if UE's playing without Charles Mammie tonight, NU's frontline cannot relax. Mbe will of course provide the necessary strength. Giving him ample support—one thing Villamor can deliver—will be very much appreciated by the Sampaloc cagers.
UE: Chris Javier
Sans Mammie, the Red Warriors' backup center will have a daunting assignment of defending Mbe tonight. He must take good advantage of his bulk and outside touch to get something going and at least limit the NU big man.
What this game means: At 7-3, a win pushes NU to the top of the team standings along with the FEU Tamaraws. UE meanwhile is just half a game behind Ateneo and La Salle; winning this game lets them force a three-way logjam from 3rd to 5th spots. It will also keep their playoff hopes very much alive. – Rappler.com