After 6 years at the helm, Leo Austria says it's time to leave Adamson.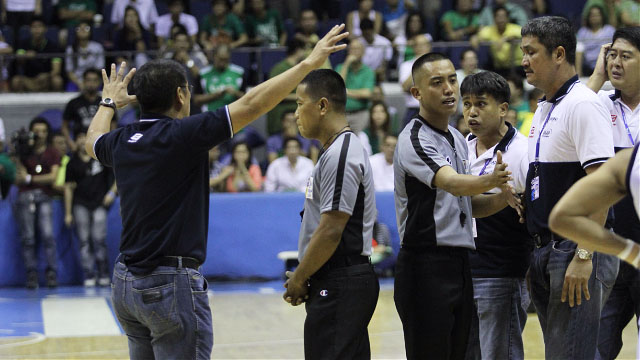 MANILA, Philippines — Adamson University might have scored a win, but they will be losing a brilliant bench tactician once Season 76 is done.
Coach Leo Austria, who regularly steered underdog teams to contention, has signaled that he will be stepping down after the Soaring Falcons' campaign this year.
"I have to go," Austria told Rappler after Adamson whipped University of the Philippines, 67-53 on Saturday, August 31.
Time for change
In the post-game press conference, the longtime Falcons mentor, who was recently named Coach of the Year by the ASEAN Basketball League, said that after 6 years, he wants change for Adamson.
"This will be my last season in the UAAP," Austria said. "Not because I'm going to the PBA, but because I want them to have change."
The former PBA Rookie of the Year poured his heart out before reporters, saying that he's been receiving negative comments from the Adamson community regarding his coaching skills.
He added that it influenced the decision he made to leave the team he has handled for the last 6 seasons.
"They are starting to doubt my ability," Austria shared. "When you're losing, everybody blames you."
Cooling off
After losing key cogs like Eric Camson and Alex Nuyles to graduation, the Falcons surprised a lot of pundits by winning 3 of their first 5 games this season. 
But then Adamson fell into 6-game rut, dropping a number of close games before losing via blowout in their last two before beating the Fighting Maroons today.
"They saw hope when we had a 3-2 record," he said. "But after that, it started to change. I heard a lot of bad things from the community."
"They doubted me. It was really hard. It's not pleasant to my ears," added a visibly disappointed Austria, who recently won a title with the San Miguel Beermen in the ABL.
Time is up
And though his contract isn't expiring until October 31, Austria has made a decision not to renew it and take a break from the UAAP.
"As far as I'm concerned, I hear from a lot of people that they want change," he related. "It means they don't want me anymore."
Austria said he wants to take a rest and will refuse any offer from Adamson in case they invite him for another go-around with the Falcons.
"After 6 years, they expected me to make a miracle," he shared. "I can't do it because every team is trying their best to have a good lineup."
No confidence 
Austria noted the aggressiveness of teams like De La Salle University and National University when it comes to recruiting players, even saying that if he had the roster of the Green Archers or the Bulldogs, then he can probably bring them a championship. 
"It's really hard to work if you have no confidence," the amiable coach added. "They're starting to question my ability so it's not helping."
He quipped that even though many of his former and current players didn't have UAAP or NCAA experience in the juniors division, they were competitive year in, year out. 
"Naiinip na sila for a championship," he said of the Adamson community. "Sabi ko nag, the crowd knows what I did to Adamson. But some of the alumni, pag nag-contribute sila ng kaunti, naghahanap agad sila ng result." – with reports from Levi Verora/Rappler.com