UST eyes a spot in the top 4 when it battles FEU in UAAP Season 76.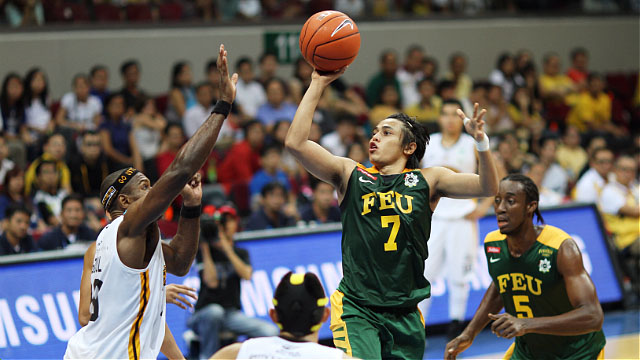 MANILA, Philippines — League-leading FEU Tamaraws try to get back on track against the wounded but fighting UST Growling Tigers in your UAAP Season 76 men's basketball tournament on Sunday, September 1 at the Smart Araneta Coliseum.
FEU Tamaraws (8-3) vs UST Growling Tigers (5-5)
First round meeting: FEU (77) – (67) UST
Terrence Romeo – 19 points
READ: Streak goes on as FEU trumps UST
Why FEU will win: With RR Garcia in harness, the Morayta squad will have a relentless backcourt. Terrence Romeo will keep UST troubled without Jeric Teng. Mike Tolomia also has been steady. When it comes to the frontcourt, almost anyone can contribute: there's Mac Belo and Roger Pogoy on offense and  Anthony Hargrove and Christian Sentcheu on defense.
Why UST will win: Ed Daquioag proved his worth as UST's starting point guard, scoring 17 points and grabbing 5 rebounds against Adamson. If he continues to put up high numbers, UST will feel like having a Jeric Fortuna-type guard.  Karim Abdul is back in shape and so is Aljon Mariano. The two big men are more offensively-skilled than FEU's bigs, and they'll punish the Tamaraws' frontcourt.
Key Match-up:
RR Garcia (13.6 PPG, 3.7 RPG, 2.8 APG) vs Ed Daquioag (9.7 PPG, 4.6 RPG, 2.6 APG)
Though Garcia, the former UAAP MVP, is more favoured in this duel of point guards, you can't count Daquioag out. The Growling Tiger was a huge reason why UST beat Adamson. In his second game back from a suspension, Garcia has to gel perfectly with FEU's backcourt to give the Tamaraws a good run.
X-Factors:
FEU: Carl Bryan Cruz
Cruz was unable to exert his power against Ateneo, finishing with just 3 points. As the Tamaraws' starting forward, Cruz must dominate the paint and defend well against Aljon Mariano.
UST: Kevin Ferrer
All eyes are on Kevin Ferrer now, as Mariano and Abdul have already recovered from a lackluster performance. Again, his unique mix of size and speed will make it difficult for FEU's wing men so he must use his superior skills to surprise the Tamaraws.
What this game means: The Tamaraws just want get back into shape after getting mauled by Ateneo. Although their chances of making the post season are really good, they must get into rhythm and can't afford to play so-so games in the playoffs. The Growling Tigers are still in the playoff race and winning tonight leaves the door open for the Espana crew. – Rappler.com