Ateneo and La Salle rekindle their rivalry in a crucial UAAP Season 76 stretch.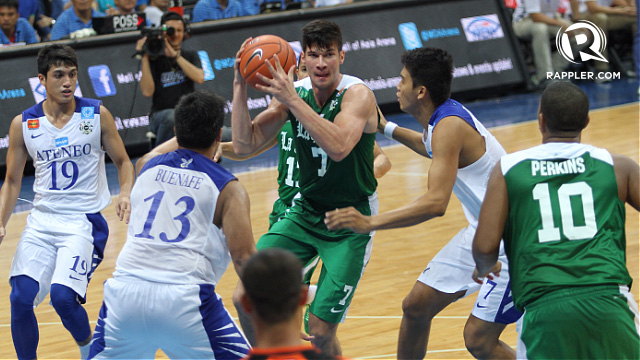 MANILA, Philippines — Revenge or repeat?
It's Round 2 of the historic rivalry in all of college basketball.
Ateneo de Manila University collides with De La Salle University for the second time in UAAP Season 76 as both teams try to inch closer to booking a Final Four berth. Whose winning streak will end? Find out this Sunday, September 1 at the Smart Araneta Coliseum.
DLSU Green Archers (6-4) vs ADMU Blue Eagles (6-4)
Game time: 4:00pm
First round meeting: DLSU (82) – (73) ADMU
Almond Vosotros – 19 points, 9 rebounds
Arnold Van Opstal – 18 points, 8 rebounds
READ: Hard-fighting La Salle rises to beat Ateneo
Why DLSU will win: Leading La Salle's solid frontline is bull-strong Norbert Torres, who punished UP with 16 points and 14 rebounds. Joining him is Arnold Van Opstal, who's turning into a beast with his career season. The towering duo should torment Ateneo inside. Almond Vosotros will continue torching the Blue Eagles from anywhere on the court. Lastly, bench players Matt Salem and Kib Montalbo will again share quality minutes along their starters.
Why ADMU will win: La Salle is no longer facing an Ateneo team they've beaten in the first round. The Blue Eagles have won 5 straight and different players gave the Blue Eagles significant outputs in that stretch. No one can stop Kiefer Ravena. Captain Juami Tiongson is coming off a 20-point outburst against FEU. Aside from starters Chris Newsome, Frank Golla, and Ryan Buenafe, the Blue Eagles also have a solid support crew in Nico Elorde, JP Erram, and Von Pessumal — all of whom have seen more minutes and have delivered more production.
Key Match-up:
Jason Perkins (11.8 PPG, 9.2 RPG, 1.6 APG) vs Chris Newsome (12.7 PPG, 8.6 RPG, 2.7 APG)
The two leading newcomers of UAAP Season 76 figure out in a premier cage fest. Both forwards have been phenomenal all season long and have given match-up problems to other squads. Tonight, they duel each other from inside and out. Both show tremendous hustle and energy on the floor. Perkins is the better shooter while Newsome's athleticism is up by a notch. Their games dictate how La Salle and Ateneo will fare tonight.
X-Factors:
Kib Montalbo (DLSU) & Von Pessumal (ADMU)
Having an effective bench is vital in this battle of two fabled college basketball teams, as it keeps their key stars fresh during crunch time. Montalbo has logged at least 15 minutes for the past 3 games, giving Almond Vosotros and LA Revilla a good breather. Pessumal, on the other hand, has been effective in their last two meetings in scoring buckets and keeping Buenafe and Ravena well-rested.
What this game means: 
Toting identical 6-4 records, both La Salle and Ateneo are hanging tightly to 3rd and 4th place, respectively. Whoever wins tonight strengthens their hopes for a twice-to-beat edge, especially since both teams are not very far behind from FEU and NU in the team standings. – Rappler.com