Adamson and NU scored big wins in UAAP Season 76.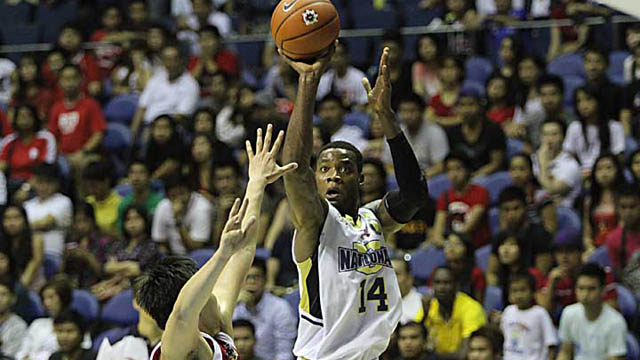 Adamson Soaring Falcons (67) – (53) UP Fighting Maroons
The Best: Ingrid Sewa was a beast down low, scoring 18 points, 15 rebounds, and 3 blocked shots. He did not only punish UP's frontcourt with his presence but he also shot effectively, hitting 60% from the field and 75% from the stripe. UP tried putting Raul Soyud and Martin Pascual on Sewa but it wasn't enough to contain the African behemoth.
The Worst: Sam Marata didn't help the Maroons in the entire match, firing misses left and right and ending up with just 8 points. He shot 3-of-14 from the field in 33 minutes of play.
Soaring with solid wings: The Soaring Falcons hardly felt the absence of Jericho Cruz as 3 wing men sizzled throughout the match. Roider Cabrera drained 3 triples for 17 points; Jansen Rios hit all but one of his shots for 16 markers, and sparkplug Don Trollano contributed 11 as the San Marcelino squad improved to 4-8 in the season.
Strength from within: Rodney Brondial muffed all of his 9 attempts but the guy pulled down 17 REBOUNDS! He was a force underneath as Adamson outhustled UP on the boards, 55-37.
NU Bulldogs (81) – (73) UE Red Warriors
The Best: Jean Mbe took advantage of Charles Mammie's absence and barrelled his way to 18 points, 11 rebounds, and 2 blocks. Ray Parks added 18 markers and 10 boards as well as the 1-2 punch helped NU roll to their 5th straight victory.
The Worst: Ralf Olivares did finish with 15 points but all his extra motions contributed to his early exit, fouling out in the final moments of the 3rd quarter. He also elbowed Jeoff Javillonar when the NU Bulldog landed near their bench midway in the fourth period. His actions led to a bench technical that changed the complexion of the match.
All NU needs now is a crowd: They've got a solid reinforcement, a two-time UAAP MVP, a reliable crew off the bench, and an experienced head coach. As the Bulldogs gun for their first championship in almost 60 years, all they need now is a "sixth man." If you watched the game live, UE fans filled half of the Big Dome in RED while the other half was left with just a few NU faithful.
"I want them to come on and support us. People say we're fun to watch so I want the alumni, everybody in NU to at least for once come and support us," said graduating NU center Jean Mbe. – Rappler.com