Ateneo coach Bo Perasol was involved in near-scuffle after their loss to La Salle.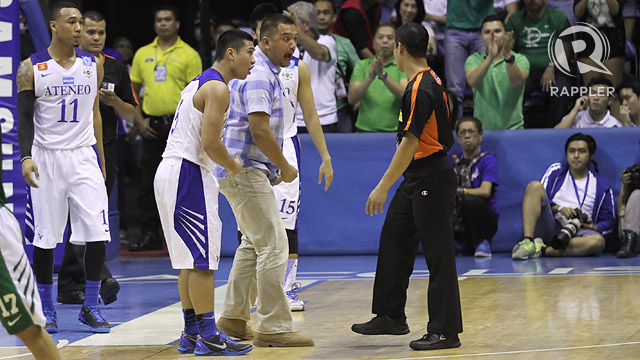 MANILA, Philippines — One big fight? Almost.
Coach Bo Perasol figured in a near-scuffle moments after Ateneo de Manila University lost to archrival De La Salle University, 64-66, in the 76th UAAP men's basketball tournament on Sunday, September 1 at the Smart Araneta Coliseum.
Perasol was on his way to the dugout when one fan from the Archers' side screamed at the Eagles' coach, saying he was the reason why Ateneo lost the game.
This angered Perasol, who rushed closer to the stands and yelled back at the La Salle supporter. But security personnel of the venue quickly stepped in and prevented the incident from escalating further.
The fan was escorted out of the courtside area and the Eagles proceeded to the dugout.
Late in the final period, Perasol was assessed a technical foul after charging at the referee for what he believed was a missed call. 
The Archers capitalized on the rookie coach's breakdown, with Almond Vosotros making two free-throws that gave La Salle a 63-59 lead with exactly a minute left. 
A few minutes after the incident involving Perasol, some Ateneo and La Salle fans sitting in the Lower Box area got involved in a yelling match, prompting venue security officers to step in anew.
Here are some tweets about the incident:
And now the police came in. Ateneo coach Bo Perasol "attacked" the referee/s. La Salle crowd just clapped their hands in front of Bo. Hahaha

— Leonard Alquisola (@leonardgma) September 1, 2013
Bo Perasol wants to punch someone. http://t.co/V4SDvDkyRX

— UAAP – NCAA Memes (@UAAP_NCAA_Memes) September 1, 2013
Bo Perasol had to be separated by cooler heads when he tried to confront a La Salle heckler #UAAP

— Jonas Terrado (@jonastsinelas) September 1, 2013
Bo Perasol stormed patron area near the exits. Few minutes later, some fans at the upper a area also had to be separated.

— Jervis Tinimbang (@JervisCT) September 1, 2013
From an eyewitness: "Some guy said to perasol. Thanks to you coach we won again tapos nagalit si bo sabi what did you say." #guilty

— tiff atendido (@tiffatendido) September 1, 2013
– Rappler.com