Top meets bottom as NU battles UP in UAAP Season 76.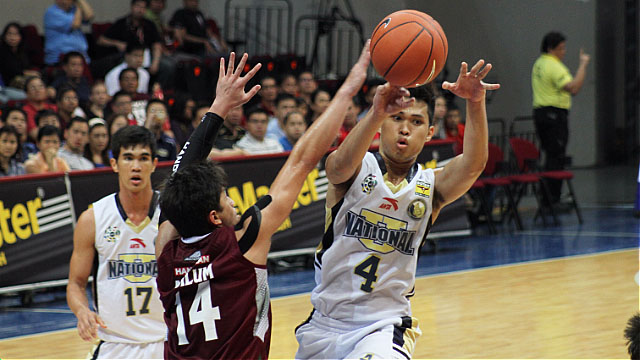 MANILA, Philippines — Opposite ends meet today in the 76th UAAP men's basketball tournament, as the league-leading NU Bulldogs try to maintain their focus heading into the playoffs when they battle the winless UP Fighting Maroons this September 4, at the Smart Araneta Coliseum.
NU Bulldogs (8-3) vs UP Fighting Maroons (0-10)
First round meeting: NU (74) – (60) UP
READ: Blazing NU keeps UP winless
Why NU will win: It's just so hard to stop the rampaging Bulldogs when they got Jean Mbe at the forefront of their sterling 5-game win streak. And the big man doesn't do the job alone; valuable contributions come from NU's starters all the way to their last man off the bench. They will all be relentless against UP as they try to solidify their grasp of the top spot.
Why UP will win: Raul Soyud continues to give UP the inside strength, scoring 17 points and 14 rebounds against Adamson. Also, Rey Madrid's starting to go deeper to his bench, fielding in the likes of Paul Desiderio and Agustini Amar. Giving his young boys more minutes adds confidence and makes them better especially when they go up against a powerhouse squad. The UP bench must also find some answers for Sam Marata's sub-par showing.
Key Match-up:
Jean Mbe (15.7 PPG, 11.3 RPG) vs Raul Soyud (9.6 PPG, 11.1 RPG)
Soyud's season has been all about tough assignments. There's nothing much he can do with Mbe's quickness and effective mid-range game which makes it difficult for everyone to contain the reigning UAAP player of the week. But I don't think Soyud will allow Mbe to just stop him from asserting his own might inside. It would be fun to see them jerking for position down low.
X-Factors:
NU: Nico Javelona
Pitted against UAAP's tail-enders, it's time to shine for NU's bench players. One of them is shooting guard Nico Javelona. If he plays well today, he'll be taking the minutes off Mo Porter and Robin Rono.
UP: Kyles Lao
With Sam Marata on a shooting slump, rookie guard Kyles Lao should find his range to help the Diliman crew end the misery. He should get used to it too because scoring would be his primary role in the upcoming seasons.
What this game means: If you're NU, defeating UP would mean a full game ahead of FEU for solo leadership. This is vital for head coach Eric Altamirano's boys as the Bulldogs want to secure the twice-to-beat incentive heading into the Final Four phase. They also want to sustain the momentum heading into the season's homestretch. – Rappler.com