La Salle attempts to book a 5th straight win when it takes on UE in UAAP Season 76.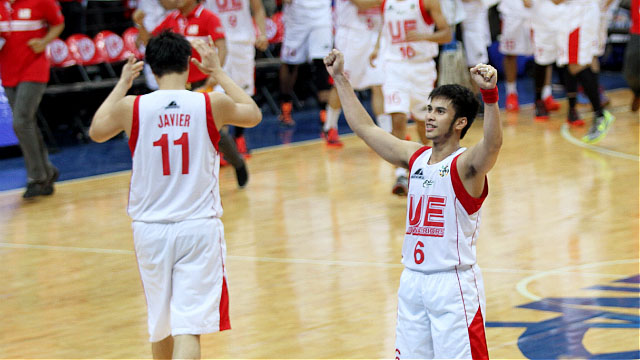 MANILA, Philippines — It's an all-important affair for two playoff-seeking teams, the UE Red Warriors and De La Salle Green Archers, as they tackle each other in the 76th UAAP men's basketball tournament on Wednesday, September 4, at the Smart Araneta Coliseum.
UE Red Warriors (5-5) vs DLSU Green Archers (7-4)
First round meeting: UE (85) – (83) DLSU
Roi Sumang – 21 points, 7 rebounds, 6 assists
READ: UE comes back to clip La Salle
Why UE will win: Sans Charles Mammie, the Red Warriors were able to keep up with NU as big men JM Noble and Chris Javier combined for 26 points and 16 rebounds. Adrian Santos also saw higher minutes. Up against La Salle's towers, it would be nice to see the 3 take care of the shaded lane again. Lordy Casajeros is also back and that will help make up for the absence of Ralf Olivares.
Why DLSU will win: Jeon Teng and the rest of the Green Archers are riding on terrific momentum after a thrilling win over rival Ateneo last Sunday. There's no more doubting La Salle's ability to close out games. We also witnessed how Almond Vosotros' shots kept falling no matter how sluggish his start was. But speaking of a steady performance, there's Jason Perkins who has been unstoppable for the La Salle frontcourt all-season long.
Key Match-up:
Roi Sumang (18.8 PPG, 5.6 RPG, 4.6 APG) vs Almond Vosotros (15.5 PPG, 5.3 RPG, 2.2 APG)
This much-anticipated duel adds spice to the battle between Recto and Taft. Sumang and Vosotros have carried their respective teams from the beginning of Season 76. Sumang has been the heart and soul of the Red Warriors while Vosotros, with all due respect to Jeron Teng, has been La Salle's King Archer this season. More than the offense they bring to their teams, it's their leadership that will be crucial today.
X-Factors:
UE: Lordy Casajeros
As Olivares sits out on a suspension, Lordy Casajeros should step up. The Red Warriors will be missing around 15 points from Olivares so Casajeros must fill in the gap offensively and he must make sure he doesn't lose his cool this time.
DLSU: Arnold Van Opstal
Hardly a factor against Ateneo, now is AVO's ultimate chance to dominate the paint. Without Charles Mammie to defend the interior, Van Opstal's got all the luxury to bulldoze his way on both sides of the floor.
What this game means: It's a decisive game for both squads. UE forces a three-way tie for 4th spot with a victory today. That keeps them in contention plus they'll have Charles Mammie back against Ateneo on Sunday. Knocking on the door for a twice-to-beat edge, La Salle will tie FEU in second place should they pull this one out. – Rappler.com