UST moves closer to a Final 4 seat after crushing UP.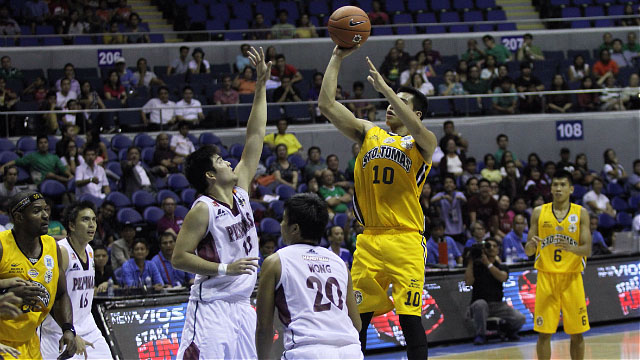 MANILA, Philippines — University of Santo Tomas moved closer to clinching a Final 4 berth after crushing University of the Philippines, 63-39, in the 76th UAAP men's basketball tournament on Saturday, September 7 at the Mall of Asia Arena.
The Growling Tigers struggled with turnovers in the first two quarters before slamming the door shut on the Fighting Maroons in the last period.
After a Paul Desiderio basket put UP within 3 at 36-33 with 1:33 left in the 3rd quarter, the Espana-based squad attacked the Maroons with reckless abandon in the last 11 minutes and outscored their foes, 27-6, the rest of the way.
With the win, UST moved to solo 4th spot with a 7-5 record heading into the last week of competition.
"Maganda itong panalong ito," said coach Pido Jarencio. "Pang-kundisyon namin going up against La Salle. Syempre 5-game winning streak sila." 
On the other hand, UP remained winless after 12 starts and is in danger of coming up with yet another 0-14 campaign.
Aljon Mariano scored 18 points on 70% shooting while also grabbing 10 rebounds to lead the Tigers, who outrebounded the Maroons, 71-41.
Kevin Ferrer added 12 points and Karim Abdul delivered 7 points and 21 boards for UST, who will play its last two games against Ateneo de Manila University and De La Salle Unversity.
Meanwhile, UP made a mere 18.5% of its shots — the lowest shooting percentage since 2003 — en route to tying National University for the lowest output in a game also since 2003 with 39 points. – Rappler.com