Jeremy Lin became an overnight sensation with the New York Knicks early last year when an injury to the starting point guard thrust him into surprise stardom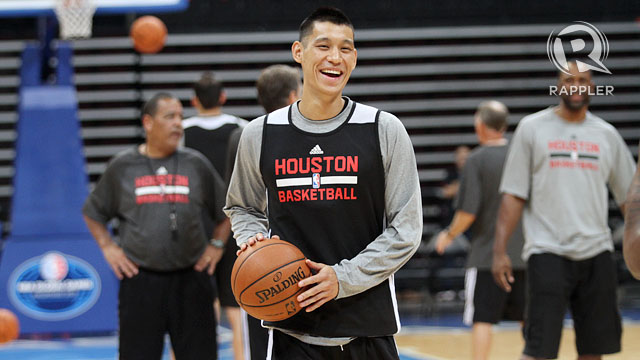 MANILA, Philippines – Asian-American NBA sensation Jeremy Lin soaked up the adulation from a basketball-obsessed Philippines Tuesday, October 8, as the Houston Rockets geared up for the new season that many fans now expect them to win.
"I'm definitely feeling the love in the Philippines," Lin said as he was mobbed by dozens of reporters and photographers in his first visit to a country that considers basketball its national sport.
James Harden may be the Rockets' top scorer, and the team may now have the NBA's best big man in Dwight Howard, but Lin was the star turn as Houston turned up for practice in Manila ahead of Thursday's pre-season game against the Indiana Pacers.
He recounted a visit on the team's arrival Monday to a shopping mall to look at NBA-themed merchandise and eat sushi at a restaurant, saying: "I've walked around the mall where people are so polite and respectful… I've been blown away."
Lin, 25, became an overnight sensation with the New York Knicks early last year when an injury to the starting point guard thrust him into surprise stardom.
His life story was turned into a film, "Linsanity", which began showing at theatres across the US this week.
Tickets to the Rockets-Pacers game were almost sold out soon after they went on sale in early September, organisers said, even though the best seats cost between $770 and $1,200 — around 80 times the average daily wage of an ordinary laborer in Manila.
Lin, who signed with the Houston after the Knicks opted to match the Rockets' offer sheet, had a mixed performance in his first full NBA season that saw the Rockets eliminated in the first round of the playoffs.
"There's definitely some difficulties and hurdles, but I think that's part of the natural progression as a player," he said.
Lin said he was working hard to improve on his shooting, where he admits he has sometimes struggled.
"It's one of those things that's a work in progress. It takes time and sometimes you have to be patient with it."
Lin, a devout Christian, said his faith helps him ensure success does not go to his head.
"It's a constant battle you know… There's always that element of pride that I have to fight and it doesn't matter what happens on the court. At the end of the day I'm a sinner before Jesus Christ."
Houston's off-season move to sign Howard, considered the best centre in the National Basketball Association, from the Los Angeles Lakers put them — in the eyes of many fans — among the favorites to win the title this season.
"I think we've got a chance to really contend for the championship," Lin said. 
However, as the court general, he said he needs to bring Howard's strengths into the play swiftly.
"I think we're going to be able to play off him (Howard), whether cutting or getting more open threes (three-point shots). He's going to draw a lot of fouls so we're going to have to constantly attack."
He added: "We have a lot to figure out and not that much time to do it."
Harden, the team's free-scoring shooting guard, said when asked about playing with Howard: "The most important thing is our communication and chemistry, so as quick as we can build that up the better we will be."
"I think we're assembling the pieces that we need… We have a lot of questions," Houston head coach Kevin McHale, who won three NBA titles with the Boston Celtics in the 1980s, said on how best to use his players to win an NBA title.
"And you know what? Championship teams don't have questions. They have answers." – Rappler.com