Despite 2 losses in their recent friendlies, the Azkals reach another record high in the FIFA Rankings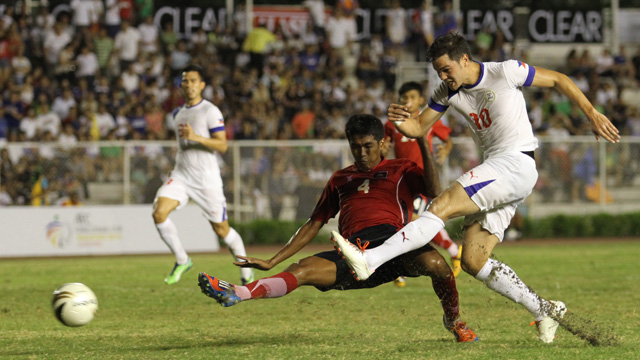 MANILA, Philippines – Despite coming out winless in their last two friendlies, the Philippine National Football Team reached another record high in the FIFA Rankings, placing 133rd in the November 28 update.
Rising four places higher from its previous position at 137th, the Azkals remain the top national side in the Southeast Asian region, with Myanmar placing 140th and Thailand at 142nd. The Philippines' new ranking takes them to 19th in the Asian Football Confederation.
The Philippines, playing without their key players due to club commitments in Europe, were trounced by the now 71st-ranked United Arab Emirates 4-0, while Phil Younghusband managed to hand the Azkals a 1-1 draw with India earlier this month.
Buoyed by strong performances during the last couple of years – including a strong showing in the AFC Challenge Cup in Nepal and a successful Peace Cup title-defense – the Azkals have been steadily gaining steam in the rankings ahead of their 2014 Challenge Cup title aspirations and its ultimate target of playing in the AFC Cup in 2015.
Elsewhere, Iran has overtaken Japan on top of the Asian rankings – placing 45th overall – 3 places ahead of the East Asians while Spain remains on top of the overall ranking despite losing to South Africa in a 0-1 upset in Johannesburg on November 19.
Europe and South America solidify their hold on top of the FIFA Rankings as Germany, Argentina, Colombia and Portugal complete the top 5. – Rappler.com