In spite of a 2-5 start in the Philippine Cup, coach Luigi Trillo says Alaska will 'take the good with the bad' in hopes of improving as the conference rolls along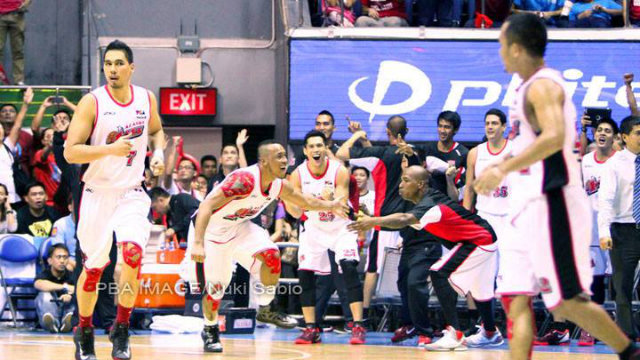 MANILA, Philippines – Two conferences ago, the Alaska Aces were riding on a championship high—a breakthrough in the tumultuous times since coach Tim Cone's departure. But the high proved to be short-lived as the Aces are now in the midst of a conference slump.
In the ongoing PLDT myDSL Philippine Cup, the Aces currently hold a 2-5 win-loss card. They are third from last in the standings and tied with the San Mig Super Coffee Mixers and Barako Bull Energy Cola. 
However, the slow start does not mean head coach Luigi Trillo is pounding his hand on the panic button already.
"2-5, you're still there. It's not like you're out of it," he said. "There's still how many games. You're still halfway through."
The Aces, though, are also on a two-game losing skid. In all 7 games they found it extremely difficult to finish strong. Multiple times they posted good leads that sometimes rose to double-digits, yet they squandered it in the endgame.
"We had two bad games, the Rain or Shine game and this first half [against Globalport]. Obviously we didn't get the win but the 3 games we lost, we played well," Trillo explained.
"With Barako we were up by 15, we just didn't take care of the lead. [With] Talk 'N Text it was still close. [With] Petron the guys played their hearts out against a tough team. With that being said, it's not like we're playing bad all the time."
The problem it seems, according to Trillo, is a good number of his players are going through personal slumps, which translates to the team.
"We're struggling because we have some injured guys and some guys who aren't in sync," Trillo admitted. "Hopefully I can think of something to get them comfortable."
In their most recent loss to Globalport Batang Pier, Alaska played terrible in the first half but found ways to come back and make it a more respectable loss. Trillo, of course, did not miss the effort his guys put in.
"They did well in the second half. I thought I was proud with the way we came back," he commended his team. But also noted some of the things they need to work on moving forward.
"It's just when we were making a run, all of a sudden, guys kept forcing things again instead of being patient and moving the ball. Again, some of the guys struggled."
Abueva as Alaska's game-changer
As other key players struggled, reigning Rookie of the Year Calvin Abueva has been stepping up to the plate in the past couple of games. He has been nothing less than the "energizer bunny" he has always been. But he also did plenty more, logging in double-digit outputs.
So far he has averaged 12 points and 9 rebounds in 6 games.
Alaska's ball of energy, however, did not play in their last outing against Globalport due to a sprained right ankle. And Alaska immediately felt the effects of not having Abueva, who has been relegated to day-to-day status.
"You can see the difference of the team without Calvin there," Trillo said. "We don't have that extra energy. It's not that we're really deep. We have a couple of old verteran guys but Calvin changes us there."
Struggling stars
Aside from Abueva, Trillo is looking for Cyrus Baguio to come through in their next games.
"I believe in Cy. I think there's a lot of good players in the PBA that have struggled as well. All good players go through that."
He also mentioned Dondon Hontiveros, who has only been averaging about 4 markers in 7 games.
"Hopefully Dondon [Hontiveros] gets out of his slump. Last game he wasn't not making his shots," Trillo lamented. "Aside from that, everybody is just a little bit tight I would think, because guys wanting to help were not in their flow." 
In the meantime, all Alaska can do is to ride it out and continue pushing themselves to start improving. At the halfway mark of the eliminations, there is no better time for them to start stringing together some wins.
And sometimes, a single impressive win can cause at least a 180-degree turn in the right direction.
"I wanna help the guys out, [some of the] guys who are struggling," Trillo said. "My heart bleeds for our players because you wanna get the W so they feel good about themselves. But we haven't been getting the W."
But if there's anyone who needs to maintain the team's heading and boost his players' confidence, it's Trillo. For that reason, he chooses to embrace the bad until hopefully, the ball rolls again with them on top. 
"You gotta take the good with the bad. And it's more [of the] bad now with the wins and losses," Trillo remarked. "The thing we need to do now is not get too down on ourselves. Hopefully, you know, we get better." – Rappler.com