Glorious fights, astonishing upsets, rising stars and the return of an icon made 2013 a year to remember for boxing
MANILA, Philippines – The return of one of boxing's greatest icons. The fall of two of the country's leading lights. The rise of young, new talent seeking their spot in the sun.
These were the 3 storylines that dominated Philippine boxing for the year of 2013. It was a year that opened with hope as American-based Filipino champions Nonito Donaire Jr and Brian Viloria seemed on the brink of crossing over into super stardom, just in time to fill the void created by Manny Pacquiao's disastrous 2012 campaign.
But when both Viloria and Donaire Jr suffered upset losses in April (to Juan Estrada and Guillermo Rigondeaux, respectively), the nation turned its eyes to old faithful, the man responsible for the Philippines' resurgent interest in boxing.
Meanwhile, contenders and champions began to stir in the lower weight divisions, taking it upon themselves to hoist the nation's boxing tradition on their shoulders. Merlito Sabillo was one such fighter, who traveled to Colombia to win the minimumweight championship.  
Another was Donnie Nietes, the WBO's junior flyweight champion, who gave boxing fans one of the most exciting fights of the year in a draw with fellow titleholder Moises Fuentes, before delighting Manila fans with a 3rd round knockout of Sammy Gutierrez in October.
Johnriel Casimero, one of the sport's most traveled titleholders, also made two defenses of his IBF junior flyweight title, including a rare battle in Manila in October.
After being technically outmaneuvered by Guillermo Rigondeaux in April, Donaire returned with a win, though his come-from-behind knockout of Vic Darchinyan, an opponent he had knocked out easily back in 2007, was hardly the sort of performance to get his fans excited once again.
In time, the Pacman returned, and so too did much of the excitement about the sport among Filipino fans. Pacquiao, who has won an unprecedented 8 world titles in as many divisions, has meant a great deal to the sport in the Philippines, single-handedly inspiring many youths to pursue the sport in hopes of achieving ring glory just as he has.
While penning a similar recap piece to the year in Philippine boxing last year, I remarked that the sport was in its greatest period as a nation. That isn't the sentiment anymore, as the future gets closer with the aging of its best talent.
Yet while the names and faces change, the game always stays the same. Wherever there are those willing to literally fight for a better life, there will be boxing.
Fighter of the Year: Manny Pacquiao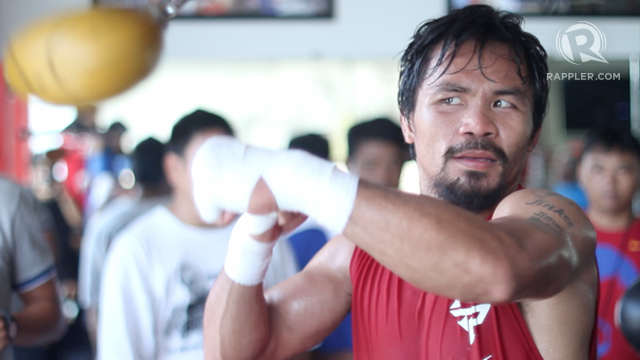 Any year that Manny Pacquiao is winning is a good year for Philippine boxing. His return to the winner's circle with a unanimous decision victory over former lightweight champ Brandon Rios this past November in Macau, China meant a return to good times for Philippine boxing as a whole.
The popularity of boxing in the Philippines rose to unprecedented heights on the back of his glorious reign as boxing's consensus pound-for-pound best fighter. But after a controversial decision loss to Timothy Bradley and a knockout defeat against Juan Manuel Marquez in 2012, questions arose about whether the Pacman could rekindle the fire that had led him to past success.
Pacquiao (55-5-2, 38 knockouts) only fought once in 2013, but his impact on the Philippine morale following Typhoon Yolanda (Haiyan) was tremendous. Thousands of victims in Tacloban City and surrounding areas gathered around screens to forget about their pain and loss, just two weeks after many lost their homes and loved ones.
Pacquiao is the only Filipino athlete who can do that.
Despite having been inactive for close to a year, Pacquiao showed flashes of his old self as he picked apart his slower, less agile opponent.
Nobody knows what 2014 will bring for the Pacman, but for now he is back in the win column with talks of big fights back on the table.
Runner-up: Merlito Sabillo 
Sabillo of Bacolod City rose up out of anonymity to capture the World Boxing Organization (WBO) minimumweight title in March with an 8th-round knockout of Luis De La Rosa in Colombia.
The 29-year-old Sabillo (23-0-1, 12 KOs), who once earned money competing in street fights at the Bacolod City marketplace, went on to headline at the first boxing event at the new Solaire Resort and Casino in Pasay City, knocking out Colombian Jorle Estrada in 8 rounds before engaging in a thrilling draw with Carlos Buitrago at Araneta Coliseum.
Fight of the Year: Merlito Sabillo D12 Carlos Buitrago
Araneta Coliseum, Quezon City, Philippines
November 30
The style clash between the reigning World Boxing Organization (WBO) minimumweight champion Merlito Sabillo and mandatory challenger Carlos Buitrago made the fight take on the appearance of the first Pacquiao-Marquez fight from 2004.
The hard-charging southpaw Sabillo was a perfect contrast for the laid-back counterpunching style of the Argentine Buitrago (27-0-1, 16 KOs), as the two traded vicious blows back and forth.
There were no knockdowns, but both seemed on the verge of being stopped at one point or another in the later rounds. One can only hope that the rematch will take place on a larger stage in the near future, because both earned the spotlight that night.
Knockout of the Year: Genesis Servania KO2 Rafael Concepcion
Waterfront Hotel, Cebu City, Philippines
October 26
What's one way to silence skeptics about your punching power? Put a guy's lights out with one shot.
That's exactly what 22-year-old Genesis Servania (23-0, 9 KOs) of Bacolod City did to Rafael Concepcion, knocking out the former world title challenger from Panama with a single right uppercut that Concepcion never saw coming. 
Concepcion laid on his back for several minutes, unconscious, having walked into the shot and doubling its effect. As the fight wasn't televised internationally, it will likely be overlooked on boxing year-end reviews, but it was as violent a knockout as any that happened in 2013.
It was a star-making performance for Servania, who avenged the 2008 knockout of his stablemate and local favorite AJ Banal, who suffered his first loss to Concepcion.
Runner-up: Edrin Dapudong KO1 Gideon Buthelezi
After being held to a controversial split-decision draw in their first meeting last year, Dapudong (29-5, 17 KOs) of Cotabato del Norte took matters into his own hands by starching Buthelezi in the opening round.
With one overhand southpaw left cross, Dapudong knocked the South African cold, thrusting himself into the junior bantamweight world title picture.
Prospect of the Year: Genesis Servania
Servania had a busy year in 2013, shedding his image as a reticent mover and unveiling an aggressive style. The result? Three knockout wins in 4 fights, with 3 wins over former world title challengers.
Servania knocked out Indonesians Angky Angkota and Isack Junior back-to-back before traveling to Macau for his first bout on international soil against Japan's Konosuke Tomiyama. The fight was all-out war from the opening bell, as Servania hit the canvas twice in round one. Servania rebounded to drop Tomiyama in rounds one and 3.
Servania ultimately won a technical decision after the fight was stopped due to several nasty cuts on Servania's eyes caused by headbutts. Still, the cagey veteran exposed some of Servania's inexperience.
Just 3 months later, Servania was back in action though, turning in his best performance to date, knocking out Rafael Concepcion in two rounds. Perhaps Servania was able to learn a thing or two from the Tomiyama fight after all.
Upset of the Year: Xiong Zhaozhong MD12 Denver Cuello
Dubai, United Arab Emirates
June 28 
It isn't often that an incumbent champion is made a significant underdog against a challenger, but that's the position Xiong Zhaozhong found himself in prior to his June 28 mandatory defense of his WBC 105 pound title against Iloilo's Denver Cuello in Dubai.
Cuello (33-5-6, 21 KOs) was considered by most to be the uncrowned champion of the minimumweight division, having been ducked by most of the top fighters at 105 pounds. Cuello was even ranked number one by The Ring magazine's divisional ratings
Meanwhile, Xiong, who was handed a title by the World Boxing Council (WBC) in a race to become the first organization to crown a Chinese world champion, had been known as a tough, if unskilled fringe contender prior to being belted. 
Cuello managed to knock his Chinese opponent down in the opening stanza, but a combination of Xiong's toughness and an undisclosed left rotator cuff injury that Cuello entered the fight with evened the bout out in the middle rounds.
One judge saw the fight even while the other two scored it for Xiong. Cuello has since had surgery to repair the damaged shoulder and is eyeing a February return to begin the long road back to a title shot.
Runner-up: Juan Estrada SD12 Brian Viloria
Venetian Resort, Macau, China
April 6
Things were going so well for Viloria in his career. And that's usually when disaster strikes for him.
The 33-year-old Viloria (32-4, 19 KOs) had been on a tear in his career, beating 4 of the most dangerous flyweights in the world en route to unifying the WBO/WBA titles. Estrada, who had given highly-regarded junior flyweight champion Roman Gonzalez all he could handle in a bout in 2012, wore down Viloria in the later rounds and unified the title by split-decision.
Estrada made his first defense against previously unbeaten Filipino Milan Melindo of Cagayan de Oro, dropping Melindo in round 11 and winning a unanimous decision.
Comeback of the Year: Manny Pacquiao
It was a sight to behold in person: Pacquiao's hand being raised in victory once again as throngs of Filipino fans who took the short flight from the Philippines to Macau exalted the return of their nation's greatest sports icon. 
Though the outcome was never in doubt, there was still a great amount of anticipation that preceded ring announcer Michael Buffer's confirmation: "He's back! Manny 'Pacman' Pacquiao!" 
It had been two years since Pacquiao had won a fight, and at 35 years of age, no one can know for sure how many nights like this Pacquiao will be able to enjoy. But if it was only for a single night, the Pacman of old – not an old Pacman – was there to put on a show.
Female Boxer of the Year: Jessebelle Pagaduan
A quick look at Pagaduan's record reveals that her 3 opponents in 2013 had a cumulative record of 2-1-3, which hardly suggests that she faced a murderer's row of opposition during that stretch. It wasn't merely who she beat, but what beating those ladies accomplished that made her campaign in 2013 a significant one.
The 29-year-old boxer Pagaduan (6-0, 4 KOs) from Baguio City knocked out Carleans Rivas on July 27 in Paranaque City to win the vacant Philippines Games & Amusement Board (GAB) female minimumweight title, marking the first time a female boxer was crowned national champion in the Philippines.
While former champion Ana Julaton remains the only Filipina boxer of international note, Pagaduan's win is a milestone for the still-growing field of women's boxing.
It's Time To Retire… 
Sonny Boy Jaro, the former WBC and RING magazine flyweight champion who gained worldwide recognition for his improbable upset of long-time 112 pound champ Pongsaklek Wonjongkam last year in Thailand.
Jaro, 31, of Silay City, lost the title in his first defense in a razor thin decision to Toshiyuki Igarashi later in 2012. What should've served as a jumping point to getting him back into contention became a bottomless pit from which his career will likely never recover.
Jaro (34-13-5, 24 KOs) was out of action for 9 months, returning in April of this year with a loss to Hiroyuki Hisataka (21-10-1) in Japan. Jaro then fought in August, losing another decision to Gerpaul Valero, who had a record of 14-14-3.
At time of publish, Jaro is scheduled on January 11 to meet Pit Anacaya, a Filipino club fighter with a record of 8-22-2. Jaro should hang the gloves up before his record begins looking like that as well.
Those we lost in 2013: Ramon "Moy" Lainez, Jonas Joshua Garcia. – Rappler.com
Ryan Songalia is a member of the Boxing Writers Association of America (BWAA) and contributes to The Ring magazine. He can be reached at ryan@ryansongalia.com. An archive of his work can be found at www.ryansongalia.com. Follow him on Twitter: @RyanSongalia.