Just as sports is entertaining to fans, it also poses serious dangers and risks to athletes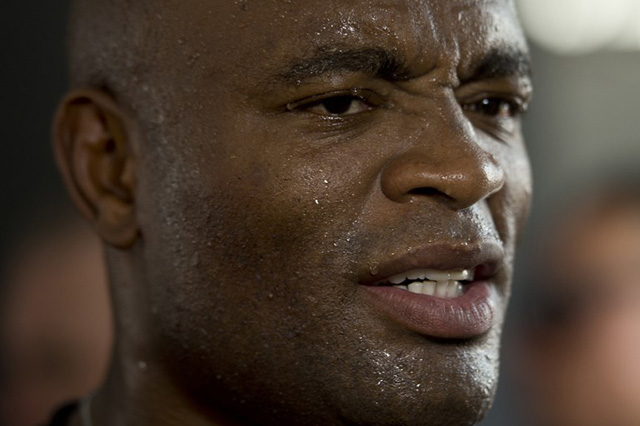 MANILA, Philippines – Anderson Silva has dished out a lot of pain and suffering during his long and legendary career in Ultimate Fighting Championship, but an injury of his own may be the lasting memory that fans have of him. 
Few who witnessed the sight of the Brazilian mixed martial artist's left leg snapping during his rematch with Chris Weidman at UFC:168 this past Saturday will ever be able to shake the image from their psyches. Silva, who holds the UFC's record for consecutive victories at 16, may have seen his career ended when Weidman checked one of Silva's kicks, causing the 38-year-old's leg to crack at the shin.
It was a graphic scene that brought an inconclusive, yet brutal end to his bout with Weidman, who had knocked him out in an upset performance earlier this year, handing Silva his first two losses in UFC since joining the company in 2006. 
According to a UFC statement, "The successful surgery inserted an intramedullary rod into Anderson's left tibia" and that his recovery will take between three and six months. 
The injury was unsightly, but not unprecedented. Every so often, an injury happens on live television without notice, forcing the world to see something that they'd just as soon take your word for.
For those who aren't nearly as squeamish, this piece offers readers a trip down memory lane at some of the equally unforgettable leg-snapping moments in sports history.
Joe Theismann
Washington Redskins vs. New York Giants (NFL)
November 18, 1985
Theismann was one of the NFL's most respected generals, a two-time Pro Bowl quarterback who had led the Redskins to victory in Super Bowl XVII and an appearance in the Super Bowl the following year.
With one play, all of that ended. Playing against the Giants on Monday Night Football, Theismann dropped back for a flea-flicker reverse, but the Giants defenders didn't take the bait. Giants linebacker Lawrence Taylor quickly swooped in behind Theismann for the sack, before two other players joined in on a pile.
It was apparent immediately that something was wrong. Taylor, who was one of the NFL's fiercest pass rushers, leapt up and signaled for medical personnel, clutching his helmet in shock.
Lying prone and writhing in pain, Theismann was on the field, after his leg bent awkwardly beneath the pile. According to ESPN, Theismann suffered an "open fracture of the tibia or shinbone," according to ESPN. Theismann, then 36, never played another down, but went on to a successful career as an NFL commentator.
"Psycho" Sid Eudy
January 14, 2001
Professional wrestling is often derided as a "fake sport," but the athletes who perform in front of live audiences take real risks. Nobody knows that better than "Psycho Sid," a former champion in World Wrestling Federation (WWF) and World Championship Wrestling (WCW) during the '90s. 
Eudy, who had also competed under the name Sid Vicious, stood (reportedly) 6-foot-9 and weighing over 300 pounds and was known for his aggressive slams, like his Powerbomb finishing maneuver and chokeslam.
All of which makes the flying knee from the top turnbuckle that he attempted against Scott Steiner during a Fatal Fourway match at the SIN pay-per-view even more baffling.
Eudy, who had never previously attempted the move, said in an interview years later that Steiner was too far, requiring him to adjust it to a flying boot. Eudy came down awkwardly on his left leg, which pancaked immediately and bent to a side, resulting in a compound fracture of the tibia and fibula. Eudy would undergo a two-hour surgery with a 43-centimeter steel rod inserted into the bone and required a cane to assist in walking for a time. 
"I was just asked to do something that I wasn't really physically able to do at that point," said Eudy in a YouTube interview.
WCW cameras had cut away to Ric Flair escorting the "mystery opponent" in the four-way match (turned out to be Road Warrior Animal) from a limousine, and returned to show Eudy on the floor with his leg snapped without explanation.
There are no injury timeouts in pro wrestling, and the show goes on with or without you. Steiner tried to buy Eudy some time by "overselling" the effect of the kick he had received and performing his pushup taunts. Eventually Steiner kept the show going by throwing some weak kicks on Eudy before the mystery opponent came out, threw weak kicks at Eudy and Steiner pinned him.
Eudy would recover eventually but would never perform full-time for a major company again.
Kevin Ware
March 31, 2013
Louisville Cardinals vs. Duke Blue Devils (NCAA)
All of the aforementioned injuries happened to athletes at the end of their already accomplished careers. What makes the injury to Kevin Ware so heartbreaking is that it occurred just as his was getting started.
Ware, a sophomore backup guard for the Louisville Cardinals basketball team, was just 20 years old when he became the most watched sports highlight clip of the night for all the wrong reasons.
In the first half of an Elite Eight game, Ware leapt high to contest a three-point shot by Duke. When the 6-foot-2 guard came down, so did his right leg – in sections.
Ware landed in front of his own bench, and teammates immediately reacted with shock and disbelief. The diagnosis: An open fracture over his right tibia that needed to be reset and have a steel rod implanted in it.
Amazingly, it was Ware who was the team's most calming influence. 
The Cardinals won the game, then went on to win the Final Four. Ware would make it out to Atlanta to help in the traditional cutting down of the net.
Ware returned to play this past November, scoring 6 points and grabbing 4 rebounds in an exhibition game against University of Pikeville. – Rappler.com
Ryan Songalia is a member of the Boxing Writers Association of America (BWAA) and contributes to The Ring magazine. He can be reached at ryan@ryansongalia.com. An archive of his work can be found at www.ryansongalia.com. Follow him on Twitter: @RyanSongalia.