This is AI generated summarization, which may have errors. For context, always refer to the full article.
With the NBA All-Star Game only about a month away, Golden State guard Stephen Curry is racing in votes to get a starting spot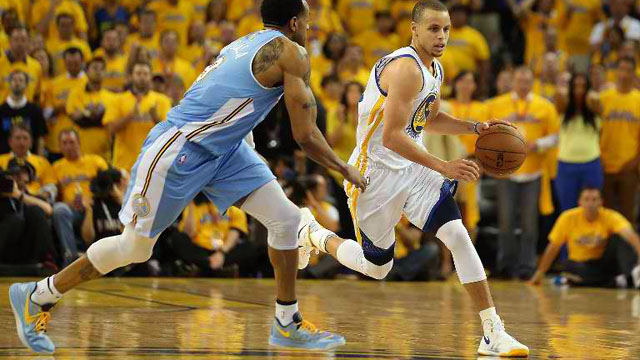 NEW YORK, USA – Golden State guard Stephen Curry moved ahead of Los Angeles Clippers star Chris Paul in NBA All-Star vote totals released on Thursday, January 9 the final update before balloting closes January 20.
Starters will be announced on January 23 for the 63rd NBA All-Star Game, which will be staged February 16 at New Orleans.
The NBA announced that LeBron James amd Kevin Durant remain the top vote-getters, with the Miami Heat star James pacing the Eastern Conference at 1,076,063 and Durant atop the Western Conference with 1,054,209.
But the only change in a projected starting spot from December came in the Western Conference backcourt, where Curry had trailed Paul for the last starting berth by 51,949 votes on December 26 but now leads him 677,372 to 651,073.
Los Angeles Lakers star guard Kobe Bryant leads West guard voting with 844,538 while Asian-American star Jeremy Lin of Houston is fourth on the West guard list at 471,980.
The West forwards are led by Durant, Houston's Dwight Howard on 509,116 and the Clippers' Blake Griffin on 500,964 with Minnesota's Kevin Love, the NBA's leading rebounder, a close fourth at 483,031.
In the East, James sets the pace among forwards with Indiana's Paul George second on 899,671 and New York's Carmelo Anthony third at 702,869. Roy Hibbert of Indiana is a distant fourth at 385,964.
Among Eastern guards, Miami's Dwyane Wade leads with 718,109 votes and Australian-American Kyrie Irving is second on 652,522. Injured Chicago star Derrick Rose is third on 323,099. –Rappler.com