Japeth Aguilar and Greg Slaughter have surpassed expectations, rising from being designated as uncoordinated big men to becoming two of Gilas Pilipinas' leading lights.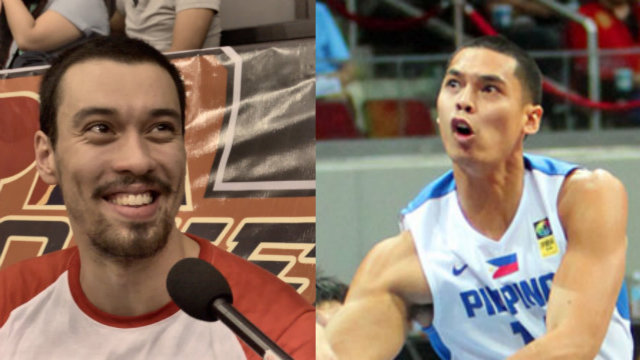 MANILA, Philippines – Five years ago, 7-footer Greg Slaughter and the 6-foot-9 Japeth Aguilar got PH basketball fans' attention for the wrong reason. They were tremendously big, but were often criticized for not making the most out of their natural abilities.
Slaughter, the tallest Filipino baller to come around in years, and the ultra-athletic, high-flying Japeth Aguilar were both scrutinized heavily under the microscope. They would receive negative blows from doubters who would dismiss them as another bunch of tall but ultimately ineffective guys. Some would write them off prematurely as disappointments.
But once enrolled under the Smart Gilas Pilipinas national program, Slaughter and Aguilar started improving their game and, after five years, the two are now on everyone's wish list for the national team.
Greg Slaughter gives PH a bright future
Slaughter was one of the pioneers of the Smart Gilas program, playing as early as late 2008. However, he was seldom used at the center spot.
In one of their tuneup games against Rain or Shine, 6-foot-5 Gabe Norwood even tried to dunk over the University of Visayas slotman.
But that was before Slaughter realized he could elevate his game to another level. Raised in Virginia, USA, Slaughter started norming double-doubles in Smart Gilas' training camp in Australia.
While the nation was still waiting for the naturalization papers of American Marcus Douthit, Slaughter played a key role in patrolling the post for Gilas, especially during the 2010 Asian Games.
Eventually, he would transfer from the University of Visayas to Ateneo de Manila University, where he would help the Blue Eagles win two more UAAP titles.
After a successful amateur stint, the former CESAFI MVP carried tons of experience and became the no. 1 overall pick in the most recent PBA Draft in November 2013.
Japeth Aguilar overcomes dark past
"Hanggang dunk lang." (All he could do is dunk). 
This familiar line would resonate years ago, even before Japeth Aguilar's appearance with Smart Gilas. His career has been one long roller-coaster ride, with the valleys emanating from criticism that he was one-dimensional. As tall as he is, many expected Aguilar to be the next big thing in Philippine basketball and were frustrated when he failed to deliver right away.
He played an injury-riddled stint at Western Kentucky University; when he returned to the country, he was selected as part of the 2009 Powerade Team Pilipinas, but seldom did he spend minutes on the hardcourt. 
Burger King selected Aguilar as the No. 1 overall pick in the 2009 PBA Draft, where he would play just a solitary game before being dealt to Talk 'N Text and the Tropang Texters loaned him immediately to the Smart Gilas program.
He was the starting 'four' guy for most of his stay with Gilas but did not earn many minutes during the 2011 FIBA Asia Championship. Even in his PBA return with TNT, Aguilar became talk of the town when he demanded then-TNT head coach Chot Reyes for minutes.
He decided to pursue his NBA dream again; he was selected in the 7th round of the NBA D-League draft by the Santa Cruz Warriors – a short-lived stint after the team waived him before the season started.
"A player is not built in just one day or one year. During those times, 'yun ung dark days ko. Medyo masakit sakin. May pain din ako. Pero good thing I have my parents who supported me and said don't give up," he said. (Those are my dark days. It hurts)
It was a dark past for Aguilar. But it didn't stop him from elevating his game.
"When I entered the scene, the hype was high. Because of that (and not living up to the expectation), it went downhill. I'm very happy that Gilas kept pushing me to work hard."
One by one, the high-flying forward turned his doubters into believers. Followers overflowed. It was a matter of perfect timing too, as he landed at the most popular team there is in Philippine basketball: Barangay Ginebra San Miguel.
Perfect timing. 
Together, the two helped Ginebra clinch the top seed in the 2013-2014 PBA Philippine Cup. They are currently down 0-1 in the semifinals against San Mig Coffee but they will definitely be a big boost not just for the Kings but also to Philippine basketball in the years to come.
Rappler: How does it feel to be part of a long developmental program?
Greg Slaughter: I can't believe it's been five years. It was so much fun. We were able to go to so many places. I'm just grateful to be part of that.
Japeth Aguilar: Five years? Wow. First, I think Smart Gilas was a stepping stone in Filipino basketball. 
Rappler: How did the Smart Gilas program help you in improving your game?
GS: I can't even say how much it helped; I've played so much basketball everywhere. Everything I learned from Coach Rajko, it really improved my game. 
JA: I am very happy that Gilas kept pushing me to work hard. I give credit to coach Rajko Toroman and Chot Reyes.
Rappler: What is your favorite moment while with Smart Gilas?
GS: Not training and getting caught by coach Rajko Toroman. We're in big trouble.
JA: My favorite is the 2013 FIBA Asia. It's redemption. The feeling is indescribable. I'm looking forward to the World Cup.
Rappler: What's the best thing Coach Rajko Toroman taught you?
GS: The one thing I got from him I didn't understand at the moment but when I matured he just told me what it really took to improve, all the hardwork it takes; he's very dedicated to the sport. 
JA: First, when Rajko arrived it was an entirely different system. Even in coach Chot Reyes' time, we went to Lithuania and New Zealand. I give credit to those two coaches. It was more competitive.
Sometimes when I meditate, I hear Rajko's voice. He's a very vocal coach, like coach Yeng Guiao. That's one thing that always made a mark. His constant habit of pushing me.
Established 5 years ago, the Smart Gilas Pilipinas men's basketball team went all over the globe with the quest of making it to the 2012 London Olympics.
The team fell just two games short but left so many fond memories which still resonate in basketball fans' minds until now.
It has been 5 years since their remarkable journey. Rappler Sports' Levi Verora gives you an 11-part special every Thursday as we look back at one of the best Philippine national basketball teams ever assembled.
Bookmark this page and tune in every Thursday as we throw you back to Smart Gilas' inspiring road towards basketball supremacy.
Primer: The Smart Gilas boys: 5 years after
Part 1: Lutz and Lassiter: Petron's two of a kind
Part 2: Ginebra's Twin Towers
Part 3: The Tamaraws (coming out next week)
Part 4: The Reinforcements I
Part 5: The Reinforcements II
Part 6: The original big boys
Part 7: The three musketeers
Part 8: Baracael cherishes 'second life' with Ginebra
Part 9: The search for the naturalized center
Part 10: The Dominicans
Part 11: The Pioneers
Check back again next week for the latest story here on The Smart Gilas boys: 5 years after. – Rappler.com