Who's going to win Super Bowl 48? PBA players and coach Tim Cone weigh in their predictions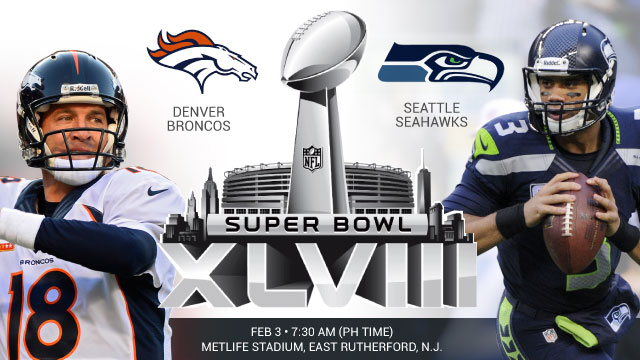 MANILA, Philippines – The Super Bowl is only a few hours away. That can only mean that the sporting world, the entertainment world, and just the entire world for that matter, will be tuning in to America to witness one of the biggest championship games in sports.
For this year's Super Bowl 48, the showdown for the Vince Lombardi Trophy is between the Denver Broncos, the best offensive team in the National Football League (NFL) this season, and the Seattle Seahawks, considered the best defensive team in the league as well.
And although their sport is basketball, local professional ballers from the Philippine Basketaball Association (PBA) are also in on the American football excitement, much like the rest of us. 
So, Rappler asked some players around the PBA to make some predictions for this year's Super Bowl. Even multi-titled San Mig Super Coffee Mixers head coach Tim Cone–a self-confessed American football fan who even used to participate in fantasy football–weighed in his predictions.
Starting with who they thought was going to make the finals from the 4 teams in the playoffs (Broncos, 49ers, Patriots, Seahawks), some were already spot on. Others weren't so accurate. Rappler also asked them to predict who they thought will come out as champions when the Super Bowl is all said and done.
Have a look at their predictions below and find out if they had it right as Rappler liveblogs the entire Super Bowl 48 on Monday, February 3 at 7:30AM (Manila time).
Gabe Norwood (Rain or Shine Elasto Painters):
"I have a weird feeling for the Seahawks. I have a feeling for the Seahawks. I have a buddy of mine who plays for the 49ers and he'll probably be a little hurt that I said it but it's hard. All 4 of 'em, you can't go wrong. Seahawks, it's just a gut feel."
Jared Dillinger (Meralco Bolts):
"I'm a big Broncos from. Cleveland Browns and Denver Broncos fan. That's where my family is from so we're rooting for the Broncos. They have Peyton Manning. He's like the single season all-time touchdown record. That guy's a legend, guy's a beast. So I'm gonna wake up at 4AM to watch the game."
Norwood: "Seahawks!"
Dillinger: "Me and Gabe (Norwood), we're gonna have dinner and debate about the Seahawks and the Broncos. But I say Broncos are gonna win by 13."
Marcio Lassiter (Petron Blaze Boosters):
"You already know. San Francisco 49ers are gonna take it. San Francisco 49ers are gonna be champs."
Rappler: What do you think about the Seahawks and Broncos?
Lassiter: "Seahawks-Broncos? First of all the 49ers are gonna smash the Seahawks. Then we'll go up against the Broncos. It'll be good but I think we'll pull through. (It'll be) At least 2 touchdowns [in the Super Bowl]. 10 points."
Justin Melton (San Mig Super Coffee Mixers):
"I'm always going for the underdog. Whoever the underdog is, that's who I'm rooting for."
Chris Lutz (Petron Blaze Boosters):
"My team's the Patriots. They're gonna win. Probably the 49ers [will be their Super Bowl opponent]. Hope the Patriots will win."
Jay Washington (Globalport Batang Pier):
"I'm gonna go with the 49ers. 'Coz I like the Bay Area. So I'm just gonna go with the Bay Area team."
Mark Caguioa (Barangay Ginebra San Miguel):
"I like the Broncos with Manning. He's a smart player. He's been there a long time. I just like him. He's been in the NFL for so long. He's a vet and I think he knows how to win."
Alex Cabagnot (Petron Blaze Boosters):
"Actually I just root for players. I'm a big fan of Peyton Manning, Broncos and Tom Brady. I actually really like Tom Brady. I'm probably gonna go with New England."
Coach Tim Cone (San Mig Super Coffee Mixers):
"I hate all the teams in the playoffs right now. None of them are my teams. I'm a huge Pittsburgh Steelers fan."
Rappler: But what's your prediction for the teams that are in the playoffs? 
Cone: "I'm gonna go with Seattle. Pete Carroll's a great coach I think he'll have them ready even though (Jim) Harbaugh's there."
Rappler: What about New England versus Denver?
Cone: "That's a tough call. Tom Brady versus Peyton Manning. I'll go with the Patriots because of their experience. Yeah, I'm gonna say New England. I hate that team because they're a rival to the Steelers. And they're just so good. Coz I think Bill Belichick is the best coach out there, he'll have them prepared well. And Tom Brady, even though Peyton Manning's there, I think when it comes to winning big games nobody's better than Tom Brady. That's a quarter back. And I think it all comes down to the quarter back and your defense and New England has both sides."
Rappler: Now that the two teams for the Super Bowl have been determined. What's your prediction?
Cone: "My crystal ball is always foggy but I go for defense so I'll go with Seattle. Seattle's really the top defensive team and Denver's the top offensive team. And when it comes down to playoffs, it's always defense that wins. I'll go with them, plus my good friend is a big Seahawks fan so I'll help him out, cheer for his Seahawks."
Rappler: What's the logic behind that? Why do you think defense always wins?
Cone: "Well, if you have like 5 hours I could tell you. (laughs) Well it's just that games in the playoffs or world championships are usually more conservative. People don't want to gamble that much so it's a slower tempo game, whether it be football, basketball, or even baseball. They slow the tempo down so it really becomes more of a defense oriented type of game. So teams with the better defense often times win. Not all the time."
Rappler: So do you think they'll freeze out Manning? 
Cone: "No, I think Manning's going to have a great game. But it's also going to be really cold there. And I think that favors the defense. And I also like Pete Carroll. I think most people think the Broncos are going to win. Broncos are the favorites. But I'm a defensive guy so I'll go with them [Seattle]." – Rappler.com