The Philippines lands in Group B in the FIBA World Cup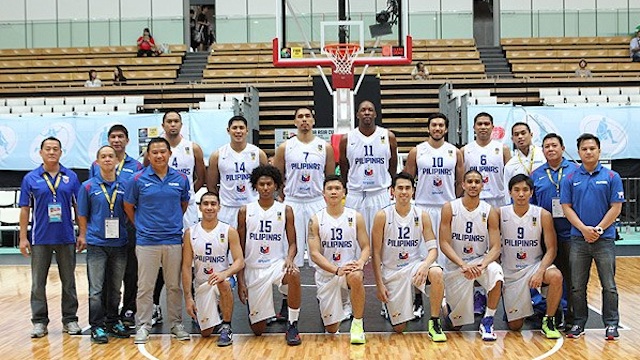 MANILA, Philippines – The opponents for the FIBA World Cup are no longer a mystery.
The Philippines on Tuesday, February 4 (Manila time) has officially been drawn to a group for the FIBA World Cup. The national men's basketball squad was drawn to Group B and will be pitted against Senegal, Puerto Rico, Argentina, Greece and Croatia.
The draw grouped the 24 countries participating in the World Cup into 4 groups of 6, where teams bracketed in the same group will compete against each other in the Preliminary Round.
The 24 teams that qualified have previously been evenly distributed in 6 pots based on their FIBA ranking and geographic locations. The teams also drew numbers to determine their position within their Preliminary Round group, as well as the schedule of the games.
The Philippines takes the number one for Group B.
The cities in which the groups will play the Preliminary Round have also been determined. Group A is set to play in Granada, Group B will play in Seville, Group C will play in Bilbao and finally, Group D will play in Gran Canaria.
The preliminary round will take place from August 30-September 4. While the Final Round will be played in the Palau Sant Jordi in Barcelona and in the Palacio de los Deportes of Madrid from September 6-14.
The results of the draw can be found below:
GROUP A: Spain, Serbia, France, Brazil, Egypt, Iran
GROUP B: Philippines, Senegal, Puerto Rico, Argentina, Greece, Croatia
GROUP C: Dominican Republic, Turkey, USA, Finland, New Zealand, Ukraine
GROUP D: Slovenia, Lithuania, Angola, South Korea, Mexico, Australia 
Relieve the draw with a few highlights from each of the teams.
– Rappler.com