Chot Reyes acknowledges the tough task ahead of Gilas Pilipinas in the FIBA World Cup as the Philippines is drawn to a group with Argentina, Croatia, Senegal, Greece and Puerto Rico
MANILA, Philippines – Gilas Pilipinas head coach Chot Reyes acknowledged the tough task he and the national men's basketball squad have ahead of them in the FIBA World Cup in August.
In an interview posted on the official FIBA YouTube page, Reyes, admitted that Group B is no easy group to be in.
"It is a tough group. We have no disillusions about our group. It is a very tough group," he said. 
The Philippines was drawn to Group B during the FIBA World Cup draw together with 5 other teams in Argentina, Croatia, Senegal, Greece and Puerto Rico. The country avoided the groups where world powerhouses USA (Group C) and Spain (Group A) are in.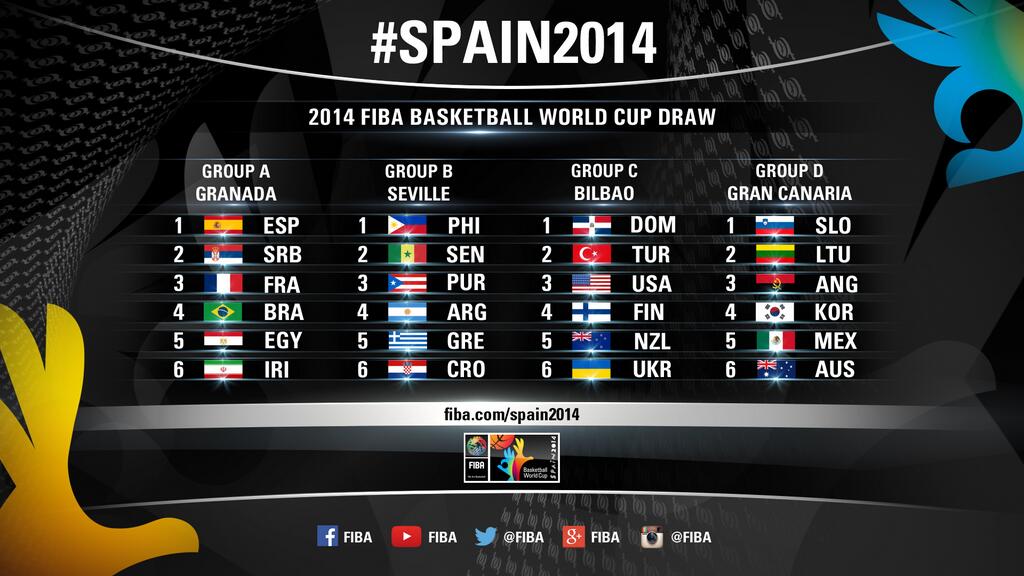 Of the 5 teams the Philippines will be facing in the Preliminary Round of the tournament, which will tip off on August 30, only Senegal from FIBA Africa is ranked lower than the Philippines in the FIBA World rankings at 41st. The Philippines is ranked 34. (READ: The 2014 FIBA World Cup draw and what it means to PH)
"You know for a team like the Philippines there is really no easy group for us in a competition like this," Reyes said. 
He posted on his Twitter account that he would have preferred to be in Group C where Ukraine and Finland are in–two teams Reyes felt the Philippines can take on.
Sayang! The 2 teams I felt kaya natin – Ukraine & Finland nasa Group C. Would've loved to be in that group. Basta #LabanPilipinas #PUSO!

— Chot Reyes (@coachot) February 3, 2014
From here on out, the road only gets tougher.
"Everything is really going to be hard," Reyes said. "And in my mind I had mentally prepared, psychologically, already to be up against very, very, very tough competition. We would aboslutely love to get to the second round."
Reyes, 50, led the Philippines to a second place finish in the FIBA Asia tourney last year as they defeated longtime tormentors South Korea to qualify for the World Cup. He said he and the team relish the opportunity to play once again in the world basketball tournament after 40 years.
"We really relish this experience because it's our first time in 40 years," Reyes told FIBA. "So we are very proud to have been drawn in the group with Argentina and some really great super powers like Croatia, playing in Seville."
Each of the 4 groups will be playing in 4 different cities in Spain. Group A is set to play in Granada, Group B will play in Seville, Group C will play in Bilbao and finally, Group D will play in Gran Canaria.
Playing in Seville, Reyes said, is also a welcome development for him.
"We like the fact also that we're playing in Seville because we know that we have quite a big Filipino population in Seville," he explained. "So we expect a lot of countrymen to come out to the games to watch live, apart from the people from the Philppines who are going to fly over here to Spain."
Reyes posted a tweet on Tuesday, February 4 of the Philippines' game schedule for the Preliminary Round.
8/30:Croatia; 31:Greece; 9/1: Argentina; 2:Off; 3: P. Rico; 4:Senegal – Tough sked, pero di tayo patitinag. Lalaban ng patayan #PusongPinoy

— Chot Reyes (@coachot) February 4, 2014
The national team is set to convene for its first practice on the first Monday of March and will train once every week from then on until the end of the current Philippine Basketball Association (PBA) season in mid-July. 
The PBA shortened its season to allow Gilas a full month and a half to prepare thoroughly for the World Cup and the Asian Games as well. 
As far as the final lineup, the Philippines must name its 24-man pool by July 30. At present, 12 players from the Gilas roster that clinched the silver medal in last year's FIBA Asia cannot be removed from the lineup. They are Jayson Castro, Jimmy Alapag, LA Tenorio, Larry Fonacier, Jeff Chan, Gabe Norwood, Gary David, Japeth Aguilar, Junmar Fajardo, Marc Pingris, Ranidel de Ocampo, and naturalized player Marcus Douthit. (READ: Who will Gilas Pilipinas play in the FIBA World Cup?)
Reyes said the team will be preparing "very, very hard" to get a change to at least reach the second round or the "Eighth-Finals" where the top 16 teams from the Preliminary Round will play direct elimination games for a spot in the Quarter Finals.
Should the Philippines reach the top 16, Reyes said that in itself would already be a huge victory for the country.
"That would be a huge, huge victory not only for our team but for the Filipino nation," he said. "And in the end our team, we're really doing it for our countrymen, for our country, for our flag. If we really get into the top 16 that would be fantastic." 
Watch the full interview from FIBA below:
–Rappler.com