Coach Tim Cone's quick in-game adjustments and experience have helped San Mig Coffee remain poised and take a 2-1 series lead over Barangay Ginebra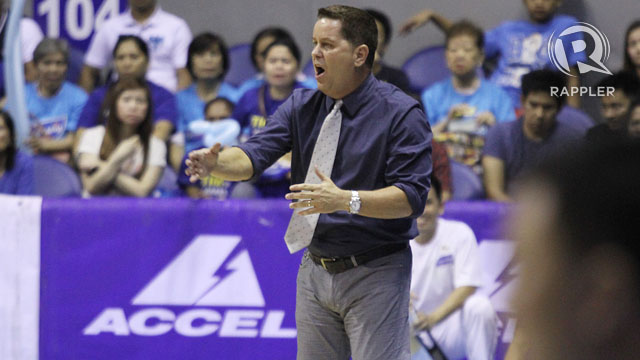 INDIANAPOLIS, IN – As far as key factors are concerned for the PBA's 'Manila Clasico' Philippine Cup semifinals series, Barangay Ginebra San Miguel has the talent, the crowd and 7-foot behemoth Greg Slaughter on their side. The San Mig Super Coffee Mixers on the other hand have players that know their roles and a coach who orchestrates the show like a brilliant maestro in Tim Cone.
So far the Coffee Mixers' strengths have claimed the upper hand as they own a 2-1 lead in their intense series with the Gin Kings, with no shortage of credit being owed to coach Cone.
Cone found a nice combination of players among his veterans led by James Yap, Joe Devance and Marc Pingris, but also utilized his young guns Mark Barroca and rookies Ian Sangalang and Justin Melton to energize his team and change things up at the right time.
The Coffee Mixers' fast start gave them enough cushion to survive Slaughter's dominance in the first three quarters, while employing the trap defense late in the game caught Ginebra by surprise and proved to be the turning point of the game. 
Kudos to the wise and seasoned Cone for finding ways to give his team an edge and for his quick in-game adjustments, while Ginebra's coaching staff painted a picture of chaos with multiple voices barking instructions in the huddle as their offense grew more and more predictable down the stretch. 
After the game, Cone made sure he tipped his hat to Pingris and his bigs' effort in trying to contain Slaughter, especially down the stretch, with Ginebra hanging their hopes on repeatedly dumping the ball to their star rookie center. Cone is definitely aware that the war is far from over and that he needs the same kind of effort from his front court on the defensive end if they hope to advance.
Ginebra has all the tools to get the job done. They have athletes, size, scorers, talent – everything. But the longer this series draws out, the more vulnerable Ginebra becomes against the Coffee Mixers, who have shown their poise and championship pedigree in pressure situations. Ginebra, on the other hand, rely heavier on their talent to win games rather than execution, and are still just getting used to winning together as a unit.  
Ginebra can't afford another loss in Game 4 on Wednesday. Though the "never say die" franchise has come back in the past from a 1-3 series deficit to win a title, this isn't your uncle's highly physical, Jaworksi-led Ginebra squad. 
More so, this is still the same Tim Cone your uncle used to know – only better. – Rappler.com
Dennis is on Twitter @dRealSource.