Basketball writer Enzo Flojo breaks down how Barangay Ginebra was able to even their Philippine Cup best-of-seven semifinals series with San Mig Coffee.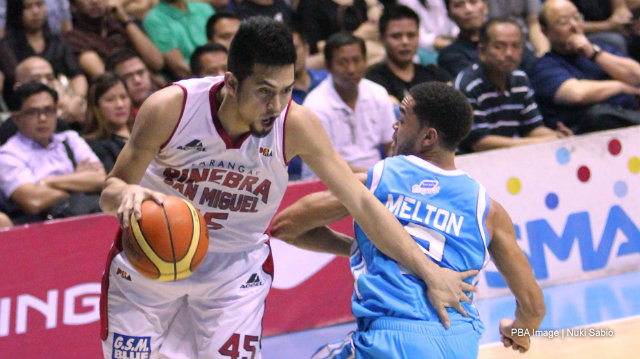 Barangay Ginebra San Miguel over San Mig Super Coffee Mixers, 85-82
The Best: Mac Baracael came to play in this one, scorching the Mixers from long range as a way to make up for getting ejected in Game 3. The former FEU Tamaraw connected on four of his five three-point attempts on his way to a game-high 20 points. He shot 6/8 overall from the field, 4/4 from the stripe, had 1 steal and 1 block in leading the Kings to a 2-2 series tie with the Mixers. 
The Worst: Despite the win, the Kings can't rest easy, not after squandering a 16-point second half lead. After Ginebra erected a 16-point bubble late in the third (thanks to a Jayjay Helterbrand trey), the Mixers uncorked a searing 18-0 blast that put a major scare into the hearts of the Ginebra faithful. Luckily, the Kings were able to right the ship just in the nick of time behind the heroics of Emman Monfort and LA Tenorio. San Mig enjoyed a great performance from James Yap, but it didn't fully make up for the subpar scoring of usual reliables Mark Barroca, Marc Pingris, and PJ Simon, all of whom combined for just 22 points.
(RELATED: PBA: Cone proving to be the difference as Ginebra struggles to adjust)
The Tenorio conundrum: LA Tenorio had his best shooting game of the series so far, shooting 55% from the field to finish with 16 points. He did, however, commit a season-high 6 turnovers, which contributed to San Mig Coffee recording a +8 advantage in points-off-turnovers. Tenorio has been having an up-and-down series so far, and his performance has been put under the microscope in the face of Mark Barroca's sterling play. In terms of player efficiency, Tenorio's rating in the semifinals is at 28.6 EFF, but Barroca's is a little higher at 32.3 EFF. The Lieutenant has just found it really difficult to keep pace with the younger, faster Barroca. How long can the Ginebra playmaker last? – Rappler.com