Michael Martinez hopes to clinch the Philippines' first ever medal at the Winter Games
MANILA, Philippines – Michael Christian Martinez has already made history by being the first Filipino figure skater to represent the Philippines at the Winter Olympics in 22 years. But he can do more than that if he is able to clinch the Philippines' first ever medal at this year's Winter Games in Sochi, Russia. (READ: The lone Filipino Winter Olympian)
That is exactly what the 17-year-old Martinez of Parañaque, Manila hopes to achieve this week as he makes his Olympic debut in men's figure skating.
Martinez will first see action on the ice on Thursday, February 13 for the men's short program. The short program, which will air live on TV5 from 11 PM to 3:30 AM, is the qualifying round wherein the top 24 skaters will advance to the free skate program.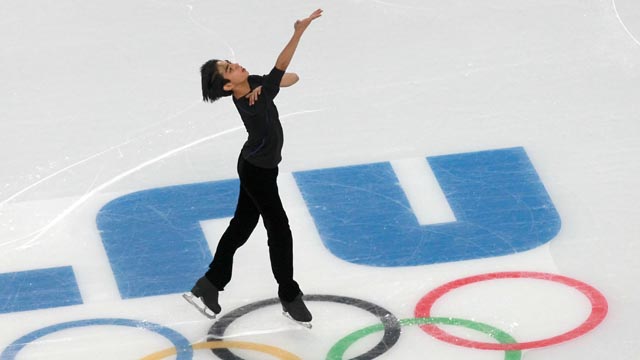 The free skate program, which also airs live on TV5 from 11 PM to 3:30 AM on Friday, February 14, is the final round that will determine the gold, silver and bronze medalists. 
As a young figure skater, the competition is daunting for Martinez as he will be going up against 30 other skaters, most of whom have the edge in experience.
The world's top figure skaters based on the International Skating Union World Standings are also competing, including Japan's Yuzuru Hanyu, who ranks number one, and Spain's Javier Fernandez, who ranks third in the world. Patrick Chan, who ranks second in the world, is also competing and has already won a silver medal in the team figure skating category. 
Martinez, on the other hand, ranks 30th as of February 3, 2014.
The Philippines has competed in the Winter Olympics a total of four times but has yet to win a medal in the prestigious international competition. – Rappler.com