Former NBA commissioner David Stern may not have been everyone's cup of tea, but there's no denying his impact on the sport's globalization. Columnist Bert Ramirez analyzes how he changed the game forever.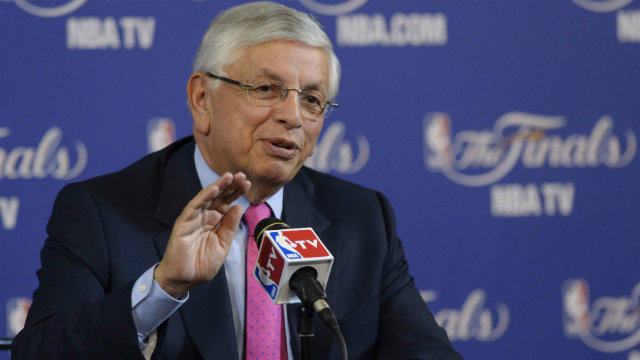 MANILA, Philippines – David Stern, the NBA commissioner for 30 long years, stepped down from what had become his private domain on February 1, giving way to his successor Adam Silver. The 71-year-old Stern might not have earned universal acclaim but nobody can deny that he turned what used to be a moribund league on the verge of bankruptcy into a highly popular, thriving and global sport.
Love him or hate him, David Stern simply used his marketing acumen and a lot of business sense to transform a league that earned $118 million a year before he took over as commissioner into one whose total revenues hit $4.6 billion the year before he stepped down.
To be sure, Stern had ruffled a lot of feathers, particularly in controversies that he seemed to engender with his hardline stance on many issues, which included the way he handled the relocation of the then-Seattle SuperSonics; the league's takeover of ownership of the then-New Orleans Hornets and his subsequent vetoing of a deal that would have sent All-Star Chris Paul to the LA Lakers; the way he played hardball during several lockouts, particularly in the last one in 2011 that eventually forced the league to compress the season and, according to many, caused more than the usual number of player injuries; and various conspiracy theories that accused him of either favoring the New York Knicks in the 1985 lottery to bring Patrick Ewing to Gotham City (he is a New York native), or the Lakers in the 2002 Western finals against Sacramento to ensure bigger earnings, or of being biased against the San Antonio Spurs or the Boston Celtics for his unfavorable rulings on a few occasions against the two teams.
And – holy smoke! – that doesn't even include his perceived overprotective stance for the league's referees, or a perception by certain quarters that he has diluted the quality of the league's teams through over-expansion (there were 23 teams when he took over compared to the current 30) as well as the quality of the games by eliminating many of the previous defensive schemes to turn the sport into a more offense-oriented contest.
Yet, even Stern's detractors would acknowledge that he has done good for the league. For example, when he took over the helm in 1984, the perception was the league was "too black," and for it to rise as a poor third game to America's most popular sports, football and baseball, he had to change that perception by addressing the most serious problem of its predominantly black players – drug use.  Stern took the bull by the horns, admitting that the league had a drug problem, and proceeded to institute drug testing to clean it up. It helped Stern that he had such charismatic stars as Magic Johnson, Larry Bird and, later, Michael Jordan to raise the perception of the league, but without Stern's decisive move, the problem would have lingered and continued to fester.
Eric Wood of CLNS Radio credited Stern for breaking down that prejudice against black players by attacking the problem from several fronts, not the least of which is by making the game a global product.
"Stern knew that because of television, the NBA had the potential to reach out to the rest of the world. That's exactly what he did, and it lifted the NBA to new heights," Wood said. "It's hard to believe that bankruptcy was a possibility when he first took over. In a way, making the NBA a global product created a domino effect. Because Stern made the game more popular, it gave him a platform and an opportunity to deal with prejudice in sports. The idea that a sport that is played predominantly by African-Americans could become popular 30 years ago would have been a difficult thing to imagine. And yet, Stern was able to bring a sporting platform for men with inner-city backgrounds into the light. If you told someone 30 years ago that one of the most respected and adored sporting icons of the future (Jordan) would be a black man who played basketball, they would probably laugh in your face."
Indeed, Stern broke barriers previously thought were unbreakable through imagination and creative initiatives. He pushed for a salary cap that created a revenue-sharing system where the owners and the players in effect became partners.  This system is now the model for other major sports.  He also promoted the league's big-name stars like Bird, Magic and Jordan to make the NBA a mainstream sport, and pushed for breaking down barriers in international competitions to provide a venue for the original Dream Team, which stood the world on its ears when it swept through the 1992 Barcelona Olympics and subsequently made demigods of NBA players.  This watershed event made it easier to create global celebrities out of latter-day stars like Kobe Bryant and LeBron James to further fuel interest in the game from a global audience. Such initiatives as setting up training camps, playing exhibition games around the world, and recruiting more international players also combined to develop an appeal for the NBA that reached beyond American shores and paved the way for the influx of international talents as well as investors.
Kurt Badenhausen, writing about the global appeal of the NBA in Forbes Magazine, said, "One of the attractions to the NBA for new owners is the global nature and potential of the sport, which are much greater than with baseball and American football. More than half of the 42 million daily page views on NBA.com originate from outside of North America. A record 92 international players – France leads with nine – from 39 countries and territories were on this season's opening night rosters. The San Antonio Spurs have a record 10 international players."
To further illustrate the impact of Stern's global initiatives, the league launched NBA China in 2008 with a $253 million investment from ESPN/Walt Disney and several Chinese partners. Bankers estimate the venture is worth $1.5-$1.7 billion. NBA revenues in China are expected to approach $200 million this year with significant growth potential owing to the estimated 300 million people – approximately the US population – that play basketball in the Asian continent.
India and its 1.2 billion population also present a fast-growing audience for the NBA, prompting the league to open an office in Mumbai in 2011, one of 11 it currently maintains outside the US. Vivek Ranadive represented such inroads into the global market when a group he led bought 65 percent of the Sacramento Kings last May for $534 million, becoming the first Indian-born majority owner in the NBA. Ranadive has made it known he intends to make basketball the no. 2 sport in India behind only cricket.
It's no wonder that the NBA has become one of the hottest TV properties as well. When Stern took over in 1984, playoff games were shown on tape-delay.  Now the NBA finals are one of the most-watched televised events, with playoff games now being broadcast live in 215 countries using 43 languages. While the current contracts with ESPN, ESPN/ABC and TNT, which bring in $930 million annually, will expire after the 2015-16 season, a deal is expected to be reached in the next few months for about twice the current price.  
Even before that happens, however, the NBA has undoubtedly become a very viable and attractive business proposition, thanks to Stern, with the average NBA franchise now being worth $634 million, up 25 percent from a year ago. As a group, the 30 NBA teams are now worth $19 billion as against $400 million in 1984 when there were 23 teams. Operating income also doubled to an average of $23.7 million per ball club, while at least three teams (see list below) are now worth at least $1 billion each, the first time this has happened.
Indeed, while David Stern can be faulted for perhaps watering down the quality of the games somehow, there can absolutely be no question as to how he made the NBA such a profitable venture under his watch.  If anything, that defines the legacy he has left without any doubt.
Value by team. While every NBA team has benefitted from the globalization initiated by David Stern, none has benefitted more than the New York Knicks. The Knicks, despite a woeful record this season, is the most valuable team in the league for the second straight year, being valued at $1.4 billion, up 27 percent from the previous year.
Ranking second are the LA Lakers with a value of $1.35 billion, up 35 percent from 2013.
Coming in third are the Chicago Bulls, the NBA's third billion-dollar franchise with a worth of $1 billion, which is up 25 percent from a year ago, followed by the No. 4 Boston Celtics, who have a net worth of $875 million, a 20 percent improvement from last year's valuation.
Following are the complete rankings of NBA teams based on their current value (with operating income in parentheses):
1. New York Knicks – $1.4 billion ($96.3 million), 2.  Los Angeles Lakers – $1.35 billion ($66.4 million), 3.  Chicago Bulls – $1.0 billion ($52.2 million), 4.  Boston Celtics – $875 million ($46.8 million), 5.  Brooklyn Nets – $780 million (-$19.0 million), 6.  Houston Rockets – $775 million ($63.7 million), 7.  Miami Heat – $770 million ($29.2 million), 8.  Dallas Mavericks – $765 million ($37.5 million), 9.  Golden State Warriors – $750 million ($43.0 million), 10.  San Antonio Spurs – $660 million ($39.4 million);
11.  Oklahoma City Thunder – $590 million ($33.3 million), 12.  Portland Trail Blazers – $587 million ($30.0 million), 13.  Los Angeles Clippers – $575 million ($15.0 million), 14.  Phoenix Suns – $565 million ($28.2 million), 15.  Orlando Magic – $560 million ($12.3 million), 16.  Sacramento Kings – $550 million ($12.5 million), 17.  Utah Jazz – $525 million ($17.5 million), 18.  Toronto Raptors – $520 million ($28.8 million), 19.  Cleveland Cavaliers – $515 million ($10.8 million), 20.  Denver Nuggets – $495 million ($8.0 million);
21.  Washington Wizards – $485 million ($7.0 million), 22.  Indiana Pacers – $475 million ($11.6 million), 23.  Philadelphia 76ers – $469 million (-$3.8 million), 24.  Memphis Grizzlies – $453 million ($11.2 million), 25.  Detroit Pistons – $450 million ($10.3 million), 26.  Minnesota Timberwolves – $430 million (-$2.7 million), 27.  Atlanta Hawks – $425 million (-$3.6 million), 28.  New Orleans Pelicans – $420 million ($11.2 million), 29. Charlotte Bobcats – $410 million ($7.0 million), 30.  Milwaukee Bucks – $405 million ($11.5 million).
SHORTSHOTS: Going too far? Maybe so but the NBA has discussed, at least at the exploratory level, changing the dimensions of the court in light of the increasing size and athleticism of players, as well as, hear this, introducing a four-point shot!… Metta World Peace, as expected, has been bought out by New York, and Glen "Big Baby" Davis has also joined former Celtics coach Doc Rivers in LA with the Clippers… Also in the works are the buyouts of Jimmer Fredette in Sacramento and Ben Gordon in Charlotte. – Rappler.com 
Bert A. Ramirez has been a freelance sportswriter/columnist since the '80s, writing mostly about the NBA and once serving as consultant and editor for Tower Sports Magazine, the longest-running locally published NBA magazine, from 1999 to 2008.  He has also written columns and articles for such publications as Malaya, Sports Digest, Winners Sports Weekly, Pro Guide, Sports Weekly, Sports Flash, Sports World, Basketball Weekly and the FIBA's International Basketball, and currently writes a fortnightly column for QC Life and a weekly blog for BostonSports Desk.  A former corporate manager, Bert has breathed, drunk and slept sports most of his life.